On a late summer afternoon, I filled my picnic backpack and headed to the vineyards.
MEMORABLE PICNIC
I love wine, and to me, there is nothing more idyllic than the sight of vineyards — no matter what the season. Even in the bareness of winter, they still manage to captivate me with the hope of good things to come. Yet it is toward the end of summer, when the harvest is not that far away, and when they are at their most lush, that the sight of vineyards truly moves me. Knowing that it won't be long before the grapes are turned into wine and the whole process starts anew always amazes me.
As you can imagine, one of my favorite places to picnic when in France is close to vineyards. Last week while in Duras, a village in the Lot-et-Garonne that stole my heart a decade ago, I found the perfect spot and spent a few blissful hours drinking local wine and savoring sausage, cheese and fresh fruit.
PERFECT PICNIC BACKPACK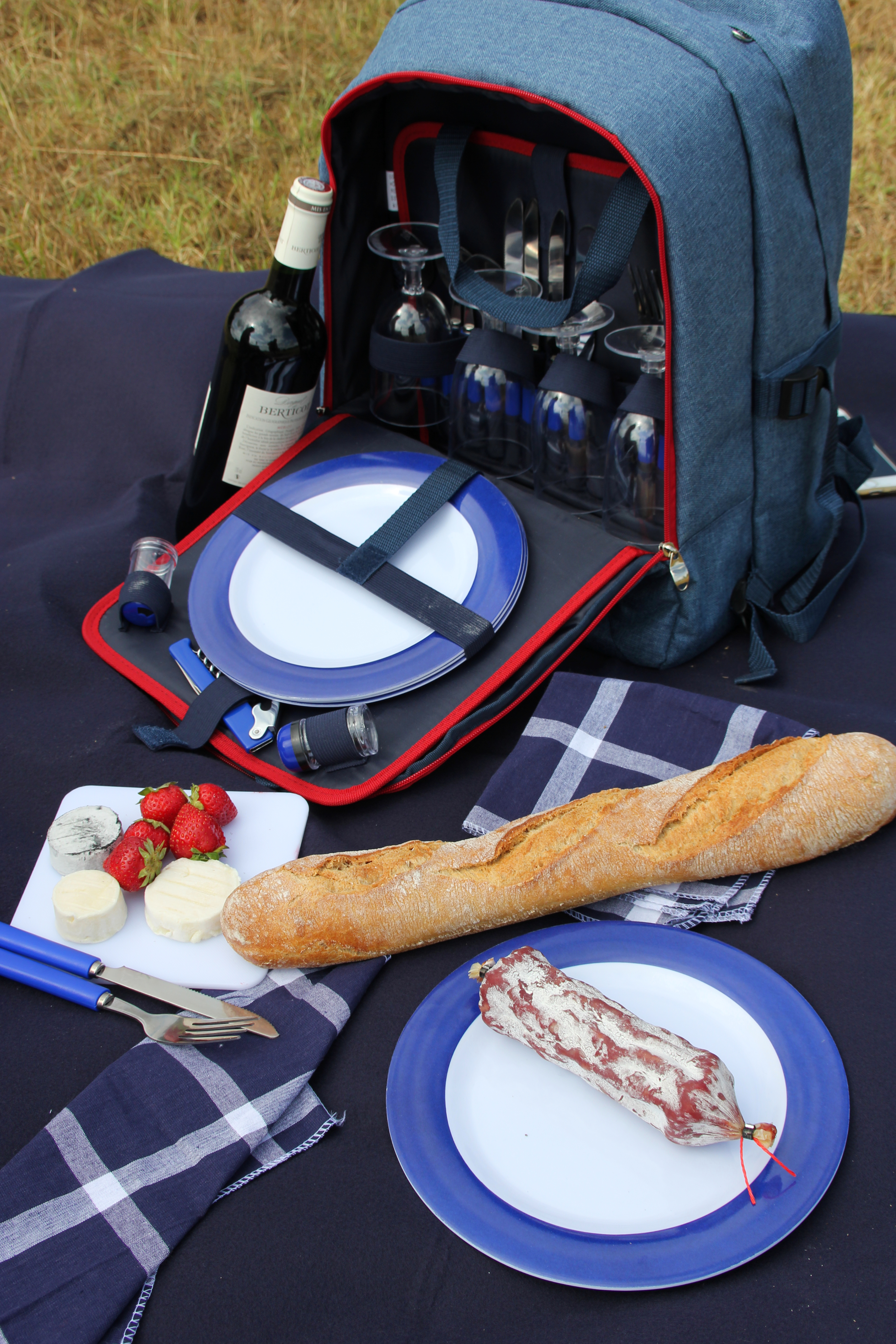 I recently told you about the beautiful picnic baskets by Les Jardins de la Comtesse, a French family-run company that offers a large selection of picnic essentials, including the backpack shown here. The 'Urban Trekking' backpack with comes in denim with red accents includes everything you need to set up a memorable picnic: from a plush blanket with waterproof reverse side to a removable bottle holder! Of course, it also includes plates, cutlery, wine glasses, a bottle opener, salt and pepper shakers, a cheese plate and knife and pretty blue-and-white checkered napkins! Though I adore my Marine picnic basket, taking this backpack on holiday to France seemed much more practical. We also took it to the Sunday afternoon Marchés des Producteurs in Soumensac and it was a joy to use!
Though I'm back in the Netherlands now, the memory of that carefree vineyard picnic will stay with me for a long time to come.