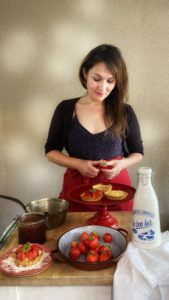 I have made no secret of the fact that I am a Francophile. Though I have always loved all things French, my passion for the country and its culture truly started to blossom somewhere in my early 20s during a trip to the Alsace region. I was captivated by the landscape, the culture, the music (play me an old Aznavour record and all is good in the world again), and of course, the food and wine. Each subsequent trip saw me falling for the charms of France even more. So much so, that I've even devoted a large part of my career to declaring my love for the country — through words.
I am a food, wine and travel journalist (with a background in Dutch language/culture and art history).
My love for France has influenced the way I eat, cook, drink, think, sing and even decorate my home. Just ask my husband, who jokingly rolls his eyes every time I drag him to a vide-grenier!
I am chief editor  to DUTCH (the only print publication about the Netherlands) and Discover Benelux. Additionally, I sub-edit and contribute to Inside Rotterdam. Past work includes being a culinary columnist for France magazine En Route (where I wrote about French food history) from 2015 to 2023. I regularly contributed travel articles, lifestyle pieces and restaurant reviews to FRANCE Magazine and French Property News. Bouillon, the leading Dutch culinary journal, regularly features my work, as does Reader's Digest UK (I am the magazine's Food & Drinks editor). I am a recipe developer and have created approximately 350 recipes for the Dutch women's weekly Vriendin as well as recipes and videos for international food companies.
Translating from Dutch to English (US/UK) is another one of my specialties. I have translated for leading publishing houses such as Kosmos and  top publications such as The Low Countries and Dutch newspaper Het Parool.
On this site I will be sharing my French lifestyle (eating well and living well!) and passion for France with you. From telling you about interesting places, recipes, products and people, to giving you tips on how to live your life with French style, flair and joie de vivre! I will also feature a selection of my published articles.
For more information and to see the list of clients and publications I've worked with, please refer to my LinkedIn profile. You can also see a small selection of my writings on France in my portfolio. For other work, have a look here.
SPECIAL COOKING LESSONS
Are you a beginner in the kitchen and do you want to be inspired to cook delicious plant-based meals for you and your family? Or do you know your way around the kitchen but are looking to expand your culinary repertoire with plant-based dishes that are beautiful, delicious and easy to make? Come and enjoy an individual cooking lesson in my small but well-equipped kitchen in Almere. We decide on a menu (complete with starter and dessert) before each lesson and the shopping is done for you (or we can do it together!).  As we cook, I will also teach you a lot about ingredients and flavors. I work with the best cooking equipment such as Mauviel, Le Creuset and Kitchen Aid. Many of my ingredients such as vinegars, oils, mustards and even flavored sugars are brought over directly from France. You may sign up for a bespoke individual lesson or with your own small group (maximum of 4 people). And because enjoyment is only complete with a great wine, each lesson will be ended with a mini-wine tasting. You will get to enjoy one of my favorite French or Italian wines! The lessons take place in my home in Almere. The menu is inspired by the seasons, but it is also possible to design the menu together.
The Original Amsterdam Plant-Based Culinary Walk!
As someone who is passionate about food, I am very well aware that good products form the basis of a successful meal. That is why I prefer to do my shopping at organic markets and specialty shops. These places are always full of delicious surprises. During a culinary walk, we will visit some of the best (plant-based) culinary addresses in Amsterdam and markets where you will learn about seasonal products and their uses. You will also become more comfortable with making good food choices and discover what the Netherlands has to offer when it comes to plant-based / vegan food and cooking. NOTE: These walks are especially interesting for expats and tourists who are new to the Netherlands.
I would love to hear from you. You can contact me at: 
pwestbeek@gmail.com
 or call me at +31 (0) 614388104.