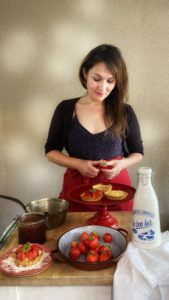 I have made no secret of the fact that I am a Francophile. Though I have always loved all things French, my passion for the country and its culture truly started to blossom somewhere in my early-20s during a trip to the Alsace region. I was captivated by the landscape, the culture, the music (play me an old Aznavour record and all is good in the world again), and of course, the food and wine. Each subsequent trip saw me falling for the charms of France even more. So much so, that I've even devoted a large part of my career to declaring my love for the country — through words.
I am a food, wine and travel journalist (with a background in Dutch language/culture and art history).
My love for France has influenced the way I eat, cook, drink, think, sing and even decorate my home. Just ask my husband, who jokingly rolls his eyes every time I drag him to a vide-grenier!
I am chief editor  to DUTCH (the only print publication about the Netherlands) and culinary columnist for France magazine En Route (where I write about French food history). I regularly contributed travel articles, lifestyle pieces and restaurant reviews to FRANCE Magazine and French Property News. Bouillon, the leading Dutch culinary journal, regularly features my work. I am a recipe developer and have created approximately 350 recipes for the Dutch women's weekly Vriendin as well as recipes and videos for international food companies.
Translating from Dutch to English (US/UK) is another one of my specialties. I have translated for leading publishing houses such as Kosmos and Dutch newspaper Het Parool.
On this site I will be sharing my French lifestyle (eating well and living well!) and passion for France with you. From telling you about interesting places, recipes, products and people, to giving you tips on how to live your life with French style, flair and joie de vivre! I will also feature a selection of my published articles on all things French.
For more information and to see the list of clients and publications I've worked with, please refer to my LinkedIn profile. You can also see a small selection of my writings on France in my portfolio. For other work, have a look here.
I would love to hear from you. You can contact me at: 
pwestbeek@gmail.com
 or call me at +31 (0) 614388104.