Women Artists in Paris explores the contributions of women in art during the second half of the 19th century.

SEXISM
In the late 19th century, Paris was a cultural breeding ground for writers, poets and artists from all over the globe. In art, the French capital became the birthplace of significant movements such as Realism, Impressionism and Symbolism. When considering this, one may immediately think of names such as Van Gogh, Gauguin and Monet, influential artists who were attracted to the city's  art academies, salons, studios, galleries and museums.
During this time, however, women artists were also settling in the dynamic city, determined to advance their career and do away with the sexism and obstacles that were still hugely prevalent. In fact, in 1880, respected German philosopher Arthur Schopenhauer wrote: "If we think about it, what more can we expect from women if throughout the world this sex has not produced one single great mind, nor one complete and original work of art, nor, in anything, one work of lasting value." Unfortunately, even to this day, women artists have not fully received the recognition they so much deserve.
EXCEPTIONAL CONTRIBUTIONS BY FEMALE ARTISTS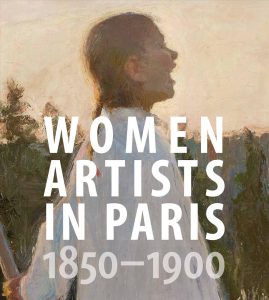 Beautifully illustrated with the works of thirty-seven female painters from eleven countries, Women Artists in Paris, 1850-1900 is part of the traveling exhibition examining their exceptional contributions. The catalog features ninety paintings by artists such as Berthe Morisot, Mary Cassatt and Louise Abbéma, as well as names that have somewhat remained in the shadows such as Hanna Pauli, Anna Ancher and Lilla Cabot Perry. It explores subjects such as 'Women Artists and Impressionism' and 'Female Artists in the Nordic Countries'. Paintings are divided into various categories, including the highly moving 'Picturing Childhood' with beautiful maternal scenes such as Elizabeth Nourse's A Mother (1888).
Presented by the American Federation of Arts, the exhibition was made possible with loans from sixty-eight lenders in ten countries. It will be at the Speed Art Museum in Louisville Kentucky from February 17th to May 13th, and at the Clark Institute in Williamstown, Massachusetts from June 9th until September 3rd.
For those who cannot make it to the exhibition, the catalog is a wonderful opportunity to discover the works of these talented female painters.
Women Artists in Paris, 1850-1900
ISBN: 978-0-300-22393-4
American Federation of Arts & Yale University Press
Image at the top of this post: Louise Catherine Breslau, The Friends, 1881, Musée de Art et d'Histoire, Geneva