La dame avec les fleurs is a painting by Louise Abbéma (1858-1927), one of France's often forgotten artists and a multitalented woman.
THE PAINTING
I was intrigued by this 19th-century painting after seeing it in an old art book at a thrift store recently. There was something about the woman that drew me in immediately. Perhaps it was her captivating gaze as she slightly leans to the side, with her hand resting almost seductively under her chin. That, and the porcelain skin, white dress and flushed cheeks which at the same time give her an air of innocence. Because of the deep, rich tones that characterize the rest of the work, she instantly garners the viewer's attention.
THE ARTIST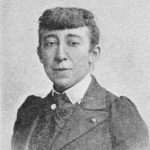 The painting is the work of French artist Louise Abbéma, who was also an engraver, sculptor, designer and even writer for journals such as the Gazette des Beaux-Arts and L'Art. Abbéma was born into an aristocratic family in Étampes and showed an interest in art from a young age. In 1873, she left for Paris to study art and acquired great success with her portraits of notable individuals, genre scenes and decorative panels commissioned for the city's town halls and theaters. Abbéma's artwork was regularly shown at the Paris Salon des Artistes Français, and in 1876 she received much attention with her painting of Sarah Bernhardt, whom she had met and sketched in 1871. Bernhardt was not only a dear friend, but presumably her lover. Abbéma also went on to become the famed actress's official portraitist.
Influenced by Impressionism, she gave preference to oil and watercolor. Flowers were often included in her artworks, as is the case with the painting featured here.
Though Abbéma was highly esteemed during her time, even outside of France, today she is somewhat obscure, remaining in the margins of art history. I was not familiar with her work until a chance encounter with this painting instantly aroused my interest. Abbéma died in Paris in 1927, at the age of sixty-nine.
La dame avec les fleurs, Louise Abbéma, 1883, Sotheby's