Loving Vincent, the first film in the world to be completely oil painted, touched me profoundly. Though the movie is about Van Gogh's final years, let's take a brief look at his life.

LOVING VINCENT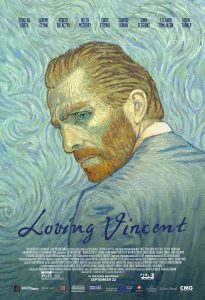 My interest in the life and work of the great 19th-century Post-Impressionist painter, Vincent van Gogh, blossomed at the age of eighteen when I took an art seminar in college. I was still living in the United States, and little did I know that less than a year later, fate would lead me to his birth country, the Netherlands, where I have remained for twenty years. It is here that I fully became acquainted with his emotionally charged oeuvre, one that is full of expression and moves me deeply.
Last weekend, after seeing Loving Vincent, one of the most impressive movies, a beautiful work of art that recounts Van Gogh's final years and raises questions about his death, I felt compelled to write a post (perhaps two) on his life and some of his works. For those who haven't seen it, Loving Vincent was first filmed in Poland before being hand-painted by 125 professional oil painters from all over the world. Every single one of the 65,000 frames comes together in a moving masterpiece — literally. By the end, I was choking back tears. Especially after hearing the melancholic song (one that always makes me sob), 'Starry, Starry Night', originally by Don McLean (1971).
WHO WAS VINCENT
Vincent van Gogh, the most famous Dutch painter after Rembrandt, is regarded as one of the greatest contributors to Post-Impressionist art. Born in the village of Zundert in North Brabant on March 30th 1853, he was the oldest son of Theodorus van Gogh, a Protestant preacher, and his wife Anna Carbentus. Early on, Vincent was a voracious reader and showed an interest in art. He enjoyed drawing and collected reproductions and prints, especially those that showed 'real' emotions. His artistic career, however, did not happen until the last decade of his life. His first calling was bringing the word of God to the less fortunate.
For a while, he worked as an assistant art dealer in The Hague, London and Paris, and taught in Isleworth and Ramsgate. In 1877, he began to study theology in Amsterdam in the hopes of becoming a preacher and fulfilling his desire to help the poor. Unfortunately, his studies were not successful. His sensitive nature and deep sympathy toward human suffering brought him to Borinage, a mining region in Belgium, a year later. There, he worked as a missionary, living in extreme poverty in order to unite himself with the sick and afflicted. His eccentric preachings, though, did not appeal to the miners, and by 1880 he returned to the Netherlands ready to devote his life to painting. He was twenty-seven years old. Through his art, he hoped to find solace and comfort others.
The first part of his artistic career was spent in The Hague where he briefly studied under his uncle, Anton Mauve, an artist of the 'Hague School' known for his hazy landscapes and beach scenes. Because of their vast artistic and personal differences which resulted in frequent quarrels, Vincent was only apprenticed with Mauve for a few weeks before moving out on his own. It was Mauve, though, who suggested he should take up oil painting. In September 1883, he left for the northern province of Drenthe where he was inspired by the gloominess of the desolate region and painted in the dark tones of Hague School. Overcome with loneliness, he returned to his parental home in Brabant (now in Nuenen). There, all the influences from his formative years came together, and he produced a large number of paintings and drawings characterized by robust expressions and a somber palette. It was at this time that he painted his first major masterpiece, The Potato Eaters (1885).
VINCENT IN FRANCE
After a few months in Antwerp studying at the art academy, Vincent left for Paris to join his brother, Theo, who was an art dealer at the Goupil & Cie gallery on Boulevard Montmartre. Through Theo, he became acquainted with other leading artists such as Seurat, Degas, Toulouse-Lautrec, and most importantly, Gauguin. The vivid colors and thick impasto of these artists caused quite an impression on Van Gogh, and soon he began to experiment with using color as a form of expression. Though this Impressionist phase only lasted two years, it was of great importance to his development. While in Paris, he developed his mature style of painting which was characterized by lively, expressive brushstrokes and bright shades of blue, green, yellow and pink.
With these new skills, Vincent left for the south of France in February 1888 and began his most productive period, creating some three hundred paintings and drawings. He first stayed in Arles where the lush, sun-drenched Provencal landscape became a main source of inspiration. By now, convinced that color conveyed emotion, he used it as his main form of expression. Yellow, for example, stood for faith, triumph and love; cobalt was used to express the divine; carmine was a spiritual color; and red and green were indicative of fierce human passions.
During his stay in Arles, he was joined at the 'Yellow House' where he lived by Paul Gauguin, with whom he hoped to set up an art colony.
To welcome Gauguin (and in an attempt to impress him) he created a series of bright sunflower paintings for his room. Though at first , Vincent and Paul worked well together, their different characters and artistic objectives soon proved disastrous and, after nine months (and the infamous ear-cutting incident), they went their separate ways.
Despite succumbing to hallucinations and bouts of mental illness which landed him in psychiatric clinics (first in Arles and later in Saint-Rémy), he continued to paint. In one of his many letters to his brother Theo, who supported him emotionally and financially, he wrote that each painting was a "cry of anguish". One of his most impressive and telling works produced during this grim period is Wheatfield with a Reaper (1889). He told Theo that the reaper was a symbol of death and that the corn represented humanity. Instead of sadness, however, the painting seems to depict a happy moment on a beautifully sunny day.
In the spring of 1890, Van Gogh left Provence and moved to Auvers-sur-Oise, a small village near Paris. Not only would he be closer to his brother, but he would also be able to consult Paul Gachet, a doctor (and amateur painter) who had treated other well-known Impressionists such as Renoir and Pissarro. He stayed at the Ravoux Hotel for seventy days and produced some seventy canvasses, some of the most dreary and disturbing of his entire oeuvre.
On July 27th 1890, Vincent van Gogh left his hotel with a gun and shot himself in the chest. Two days later he died with his brother Theo by his bedside– precisely at a time when his work started to receive the recognition it deserved.
Image featured at the beginning of this post: Self-Portrait (1887), Van Gogh Museum, Amsterdam