Looking to make the perfect coq au vin? Look no further. I finally found the ultimate recipe.

THE ENDLESS QUEST
Finding the perfect coq au vin recipe is like finding the perfect man once you have it (or him), you'll never want to let it go. I've been fortunate enough to have the perfect man for more than twenty years, but the perfect coq au vin? Let's just say it was an endless quest that only led to disappointment. Why, is anyone's guess. I can make a mean boeuf bourguignon, my oeufs en meurette taste just like they do at my favorite restaurant in Autun, and I even make a pretty fancy pork chops in red wine sauce. What I'm trying to say is that cooking with red wine is an art I think I've mastered. But oh that coq au vin! It just wasn't right. Ever. Until last weekend.
GOOD INGREDIENTS
Before giving you the recipe, let me first stress the importance of good ingredients. I shop at my local organic farmers' market where they have the most mesmerizingly beautiful seasonal food: from regional poultry such as the famous 'Polderhoen' (which I used for my recipe; it's actually a French breed), to a stand brimming with vibrant fruits, vegetables and fragrant herbs. There's something new every week, and what you find one week, may not be there the next. Like the huge bunches of fresh basil they had one Saturday in late August, prompting me to make enough pesto to last us the whole week. Or the cavolo nero I spotted a few weeks ago. Every time I'm there, ogling that gorgeous bounty, it feels as though I am inside one of those exquisite 16th-century kitchen/market scenes, like the one that opened this post, which is by Flemish painter Joachim Beuckelaer (Market Woman with Fruit, Vegetables and Poultry, 1564, Gemäldegalerie Alte Meister). Good ingredients really are the essence of good cooking, and the ingredients for my coq au vin were all locally grown and fresh from the market.
WHAT MADE THE DIFFERENCE
Perhaps what made this coq au vin so exceptionally good was that I skipped the lighter Bourgogne and went straight for a robust Bergerac —  an aromatic Pécharmant full of ripe blackberries, to be precise. I also added a good glug of Armagnac. I guess you can say it's a coq au vin 'Sud-Ouest' style. (Friends in Bourgogne, please take no offence.) Another key ingredient was a squeeze of tangy tomato puree, which made the dish just a bit richer. It is essential that you cook the coq au vin in a moderately slow oven (160°C). Serve it with potatoes (steamed or mashed).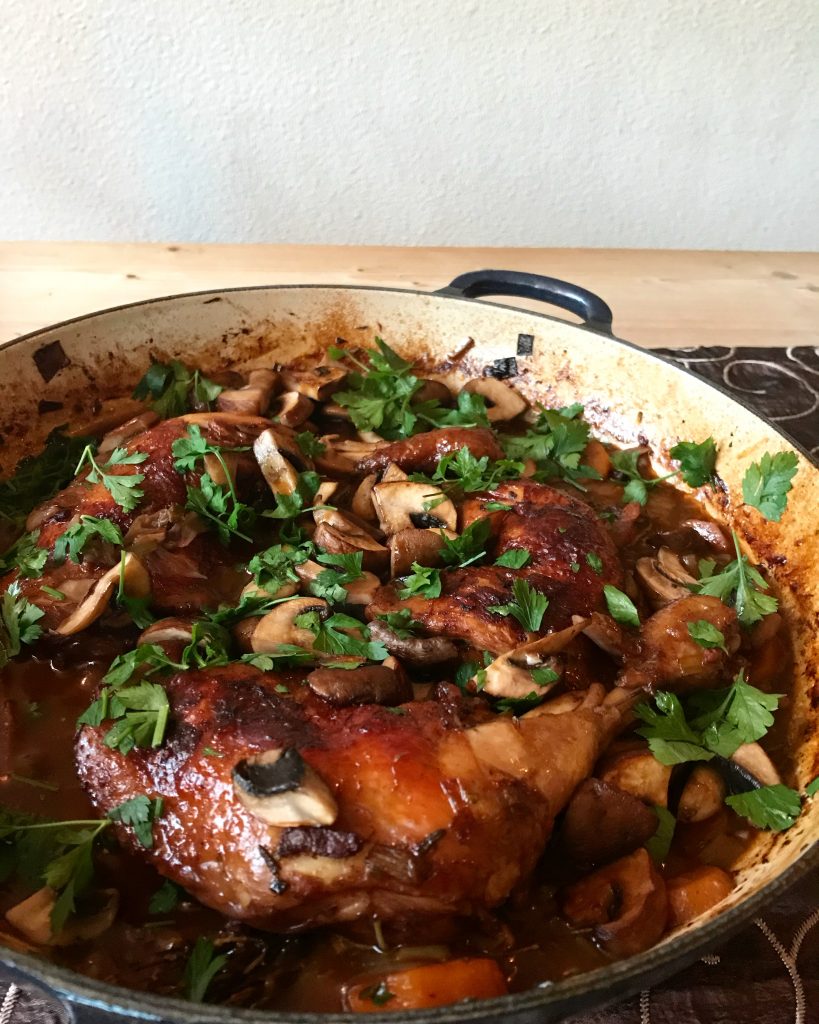 Coq au Vin
Serves 4
Ingredients:
125g smoked lardons

4 chicken legs (thigh and drumstick together)

4 shallots. halved and sliced

1 leek, sliced

1 large carrot, sliced

4 fat garlic cloves, sliced

1 tbsp tomato paste

80ml Armagnac

300ml good-quality chicken stock

400ml red Bergerac wine (or Bordeaux)

1 bouquet garni

1 sprig of rosemary, needles finely chopped

Fleur de sel & freshly cracked pepper

60g butter

2 tbsps flour

250g chestnut mushrooms, sliced

Flat-leaf parsley, to garnish
Instructions:
Preheat the oven to 160°C. Gently fry the lardons for 3 minutes in an ungreased shallow cast iron casserole (approx. 30cm). Increase the heat and add the chicken, making sure to fry it on all sides until golden. Transfer the chicken and lardons to a dish and to the oil left in the pan, add the shallots, leeks, carrots and garlic. Cook on a medium heat for approx. 5 minutes. Stir in the tomato puree and cook for an additional 2 minutes. Increase the heat and add the Armagnac. Cook stirring until the Armagnac has evaporated (approx. 3 minutes). Add the stock, wine, bouquet garni, rosemary and salt and pepper. Transfer the dish to the oven and cook uncovered for 1 ½ hrs, turning the legs a few times during cooking. Fifteen minutes before serving, place 30g of the butter in a small bowl to soften. Use the rest of the butter to fry the mushrooms. At the end of the cooking time, add the flour to the softened butter with a fork to make a paste. Remove the dish from the oven. Place the legs on a plate and stir in the butter and flour to thicken the sauce. Return the legs to the pan, add the mushrooms, sprinkle with parsley and serve.