Discovering the seaside charms and architectural gems of Nord-Pas-de-Calais

If you've been irreverently whizzing past the Nord-Pas-de-Calais region while heading towards warmer destinations in the south of France (trust me, there's more to love than the Côte d'Azur), it's time to change your ways and make acquaintance with this enchanting part of the country.
Known for its historic cities graced with marvelous architecture, wide stretches of fertile flatlands, sandy dunes and spectacular coastlines with handsome seaside towns, the Nord-Pas-de-Calais region is a humble corner of the northern Hexagon that merits more than just a whirlwind rendez-vous. Whether you're up for spending some zen time in the countryside, following in the footsteps of wartime heroes, strolling through one of the fascinating towns or breathing in crisp saline air while restaurant hopping through the coast, there is plenty to make you pause, look and savor.
In this five-part post, I'll take you on a journey to discover some of the regional jewels of Nord-Pas-de-Calais: from oyster slurping on the coast to stepping back in time as you admire the colorful Art Nouveau architecture in the mining town of Lens.

DAY ONE
Sainte-Cécile-Plage to Licques
This isn't the first time we've been to Sainte-Cécile-Plage on our way to our vacation address. The quiet, little coastal town – located about an hour south of Calais and about two hours from Paris, Lille and Brussels – may not boast riveting attractions, but what is does have is an endless beach where you can twist into some yoga poses undisturbed or lay out a blanket and while away a few pleasant hours in the company of a good book and a seagull serenade. Alternatively, the narrow paths along the dunes are perfect for a stretch of the legs after a long drive or hearty lunch.
In fact, we discovered Sainte-Cécile-Plage one spring as we made our way to the decidedly ritzier town of Le Touquet, one of the most luxurious beach resorts in northern France. Hungry and in need of a pit stop after a morning's drive, we wandered into Brasserie de La Paix on Esplanade. Though the place was bustling with an animated lunchtime crowd, we were lucky enough to get a table, not to mention quick, friendly service and good food. Since then, it's become tradition to stop there for steak-frites, a carafe of red wine and the dessert maison. This time, a rum-drenched and raisin-studded slice of bread pudding swimming in a pool of crème anglaise. You could say that a post-lunch walk was the most sensible thing to do after such a gustatory splurge.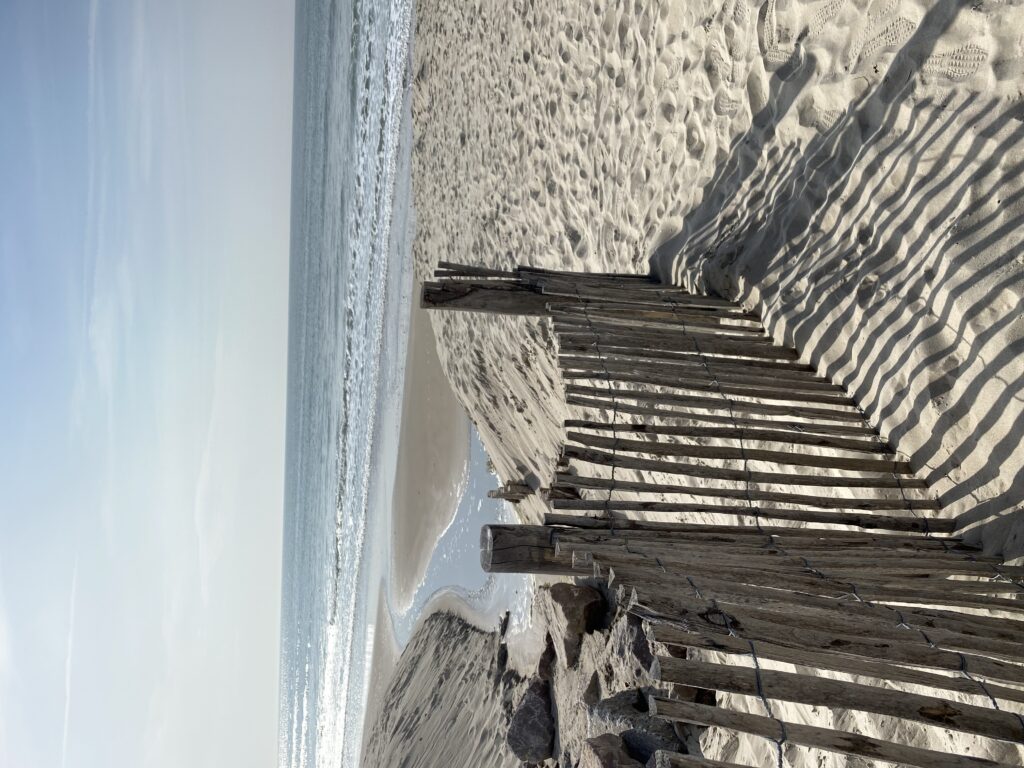 A few hours later, energized and properly caffeinated after popping back in town for a few espressos, we drove to our rental house in Licques, about 45 minutes to the northeast. Located in a verdant part of the region characterized by hills and valleys, Licques is known for its robust and flavorsome poultry, especially its turkeys, which are feted every December, just weeks before the well-fattened birds take center stage at holiday tables. The town of Licques has a pretty church, a couple of restaurants and some nice shops (including several good butchers and bakers). We rented a quaint and welcoming farmhouse just a stone's throw from it all, on a quiet road that led to wide, open fields. The type of place where you could hear a pin drop at night. There was a large wood-burning stove for heat, so we rounded off our first day with a fire, a bottle of Burgundy and a planche apéro.
DAY TWO
Cruising along the Opal Coast
Waking up to clear skies is always a promising way to start the day, especially if there's a cruise through the coast to look forward to. While the Mediterranean's glistening shores are made for sunbathing and sipping rosé, France's Côte d'Opale (Opal Coast) seamlessly blends relaxation with adventure. The rugged wonderland of majestic cliffs, sweeping marine vistas and Belle Époque resorts stretches out over 120 kilometers of coastline bathed in opalescent light, hence its name, coined by artist Édouard Lévêque in 1911.
Following the D940, our journey began at the white chalk cliffs of Cap Blanc-Nez. Situated at 134 meters above sea level, they are the highest cliffs of the Grand Site des Deux-Caps. Cap Gris-Nez, closest to England and just 10 kilometers farther south, are 50 meters above sea level. If the weather conditions are good and there's no mist, you can easily spot the cliffs of Dover, approximately 30 kilometers away.
While strolling through the windswept landscape, we greeted the occasional passer-by and frequently paused to take in the panoramic views. There's a palpable tranquility here as nature flaunts its grandeur, yet the area's proximity to England meant that it did not escape both World Wars unscathed, as is evident in the monuments, bunkers and pockmarks in the landscape.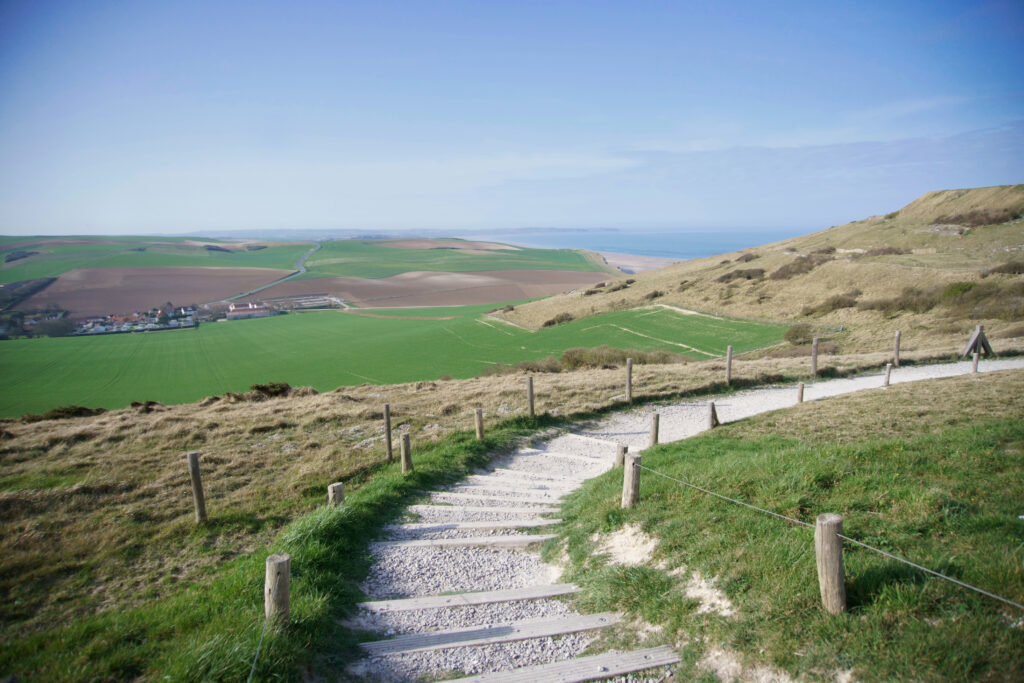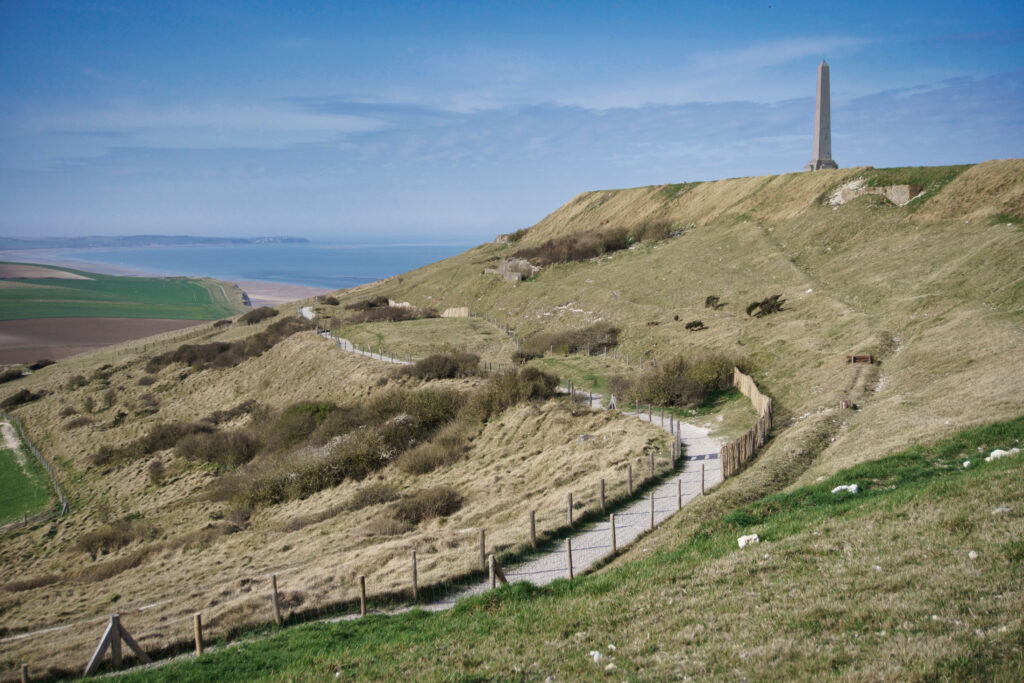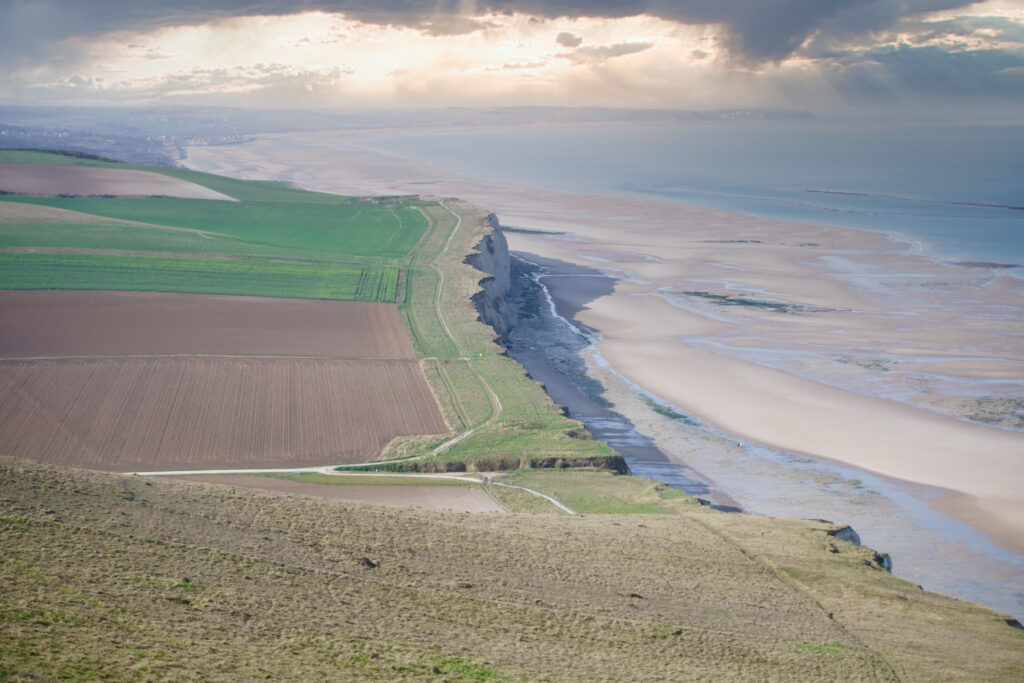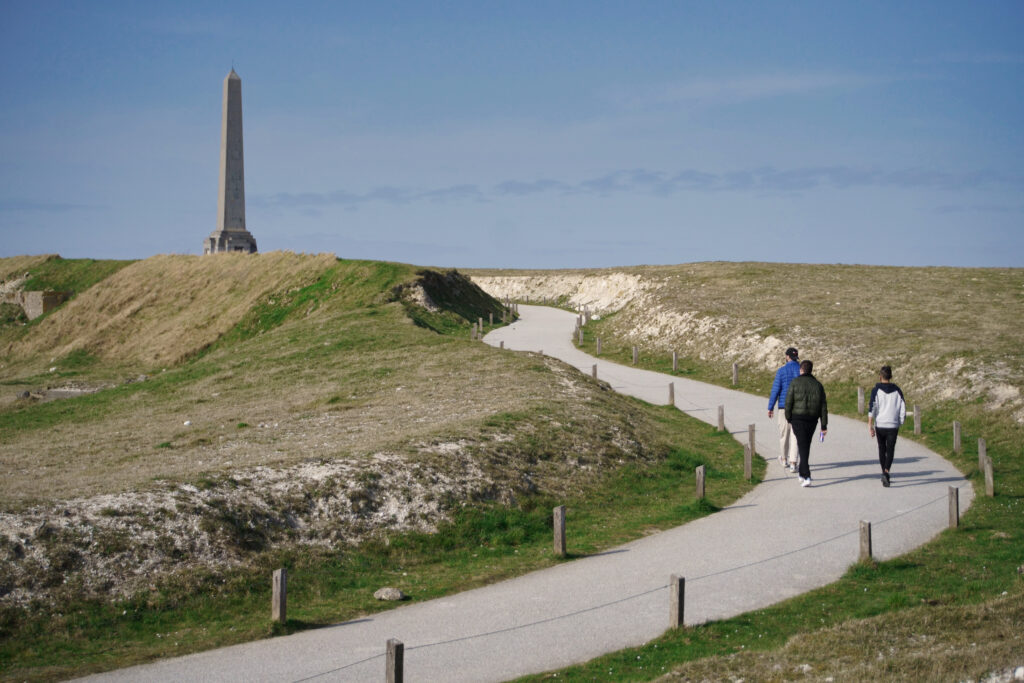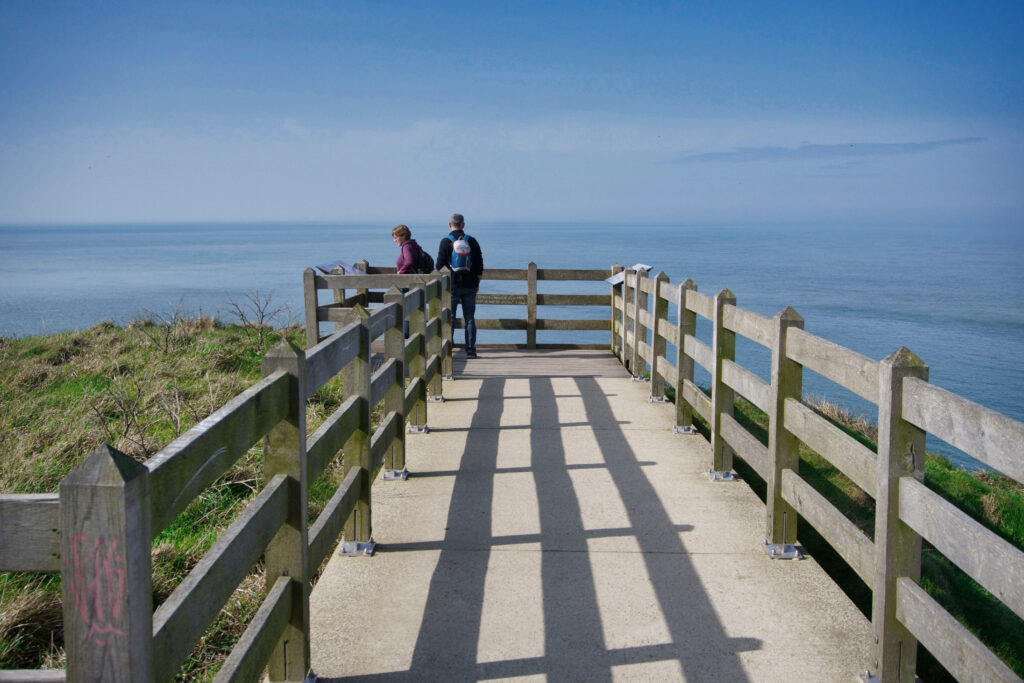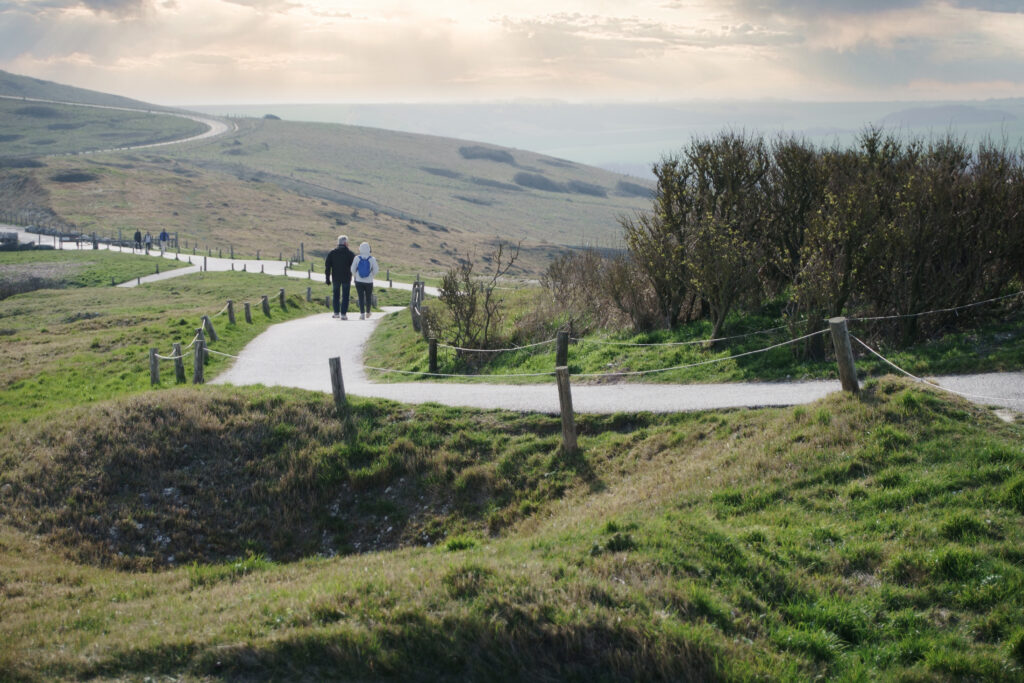 Smack in the middle of both cliffs and well worth a visit is the fishing village of Wissant where you can stop for a coffee break. With its lively square, sandy beach and long boulevard, Wissant has all the virtues of an attractive coastal town, without being overcrowded and too touristy. What it also boasts is a splendid light that was a great source of inspiration for artists of the late 19th century.
Walking worked up a good appetite, so our next stop was Audresselles where we had reserved a table at Le Retour des Flobards (58 rue Marin la Meslée), a seafood restaurant on the main square, just a short stroll from the town's characteristic stone beaches. Arriving promptly at midday, we were one of the first guests and fortunate enough to get a great table on their cozy terrace – a blessing on what was one of the first warm spring days. By the time our chilled carafe of Chardonnay had arrived, the tables were filled with people, who just like us, had obviously come here in search of excellent seafood. Waiters swooped by with cocottes of steaming mussels, fried fish and all kinds of beautiful crustaceans while the happy (hippie) bunch sitting at a corner shop across the street bobbed their heads to cracking Reggae beats, adding (albeit in an unusual way) to the holiday vibes.
A word of warning is in order if you visit this resto: choosing is no easy feat for a seafood lover. Whelks, crab, shrimp, herring (a regional specialty), coquilles and fish soup are all on the list of starters. And what to choose as a main? Lobster, a fruits de mer platter, skate, cod with shrimp, mussels in various styles such as saffron or Roquefort? I settle for a half-dozen oysters, which come with lemon and pearls of red wine vinegar instead of the usual mignonette sauce. One slurp and I sat back, closed my eyes and thanked the heavens. Then followed with a good glug of that unpretentiously refreshing Chardonnay. The main was sole meunière, fried to a golden, buttery crisp.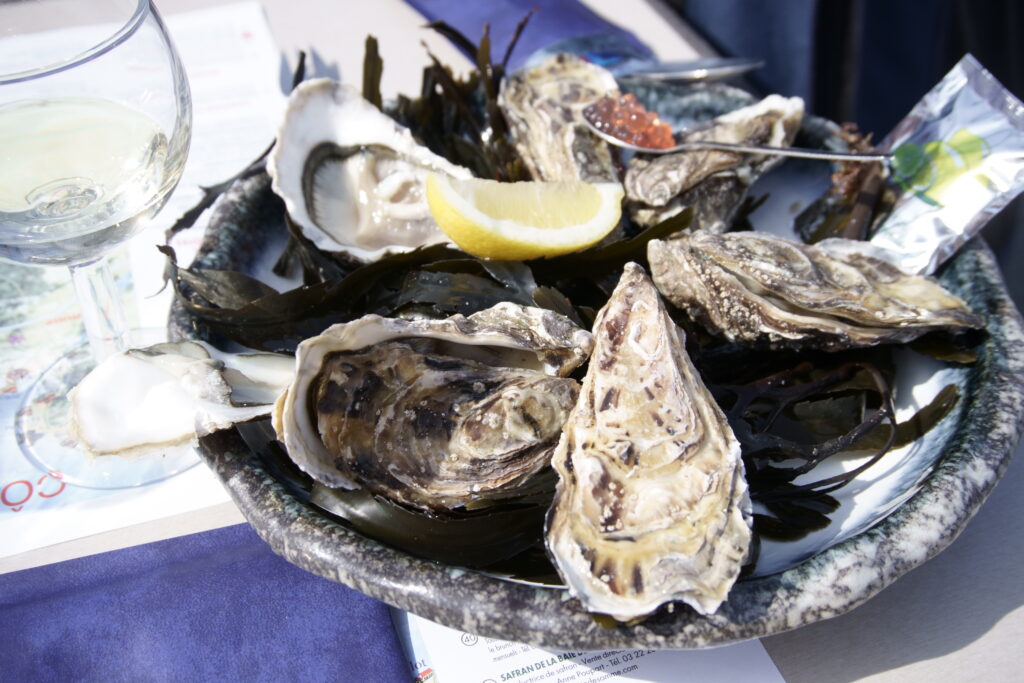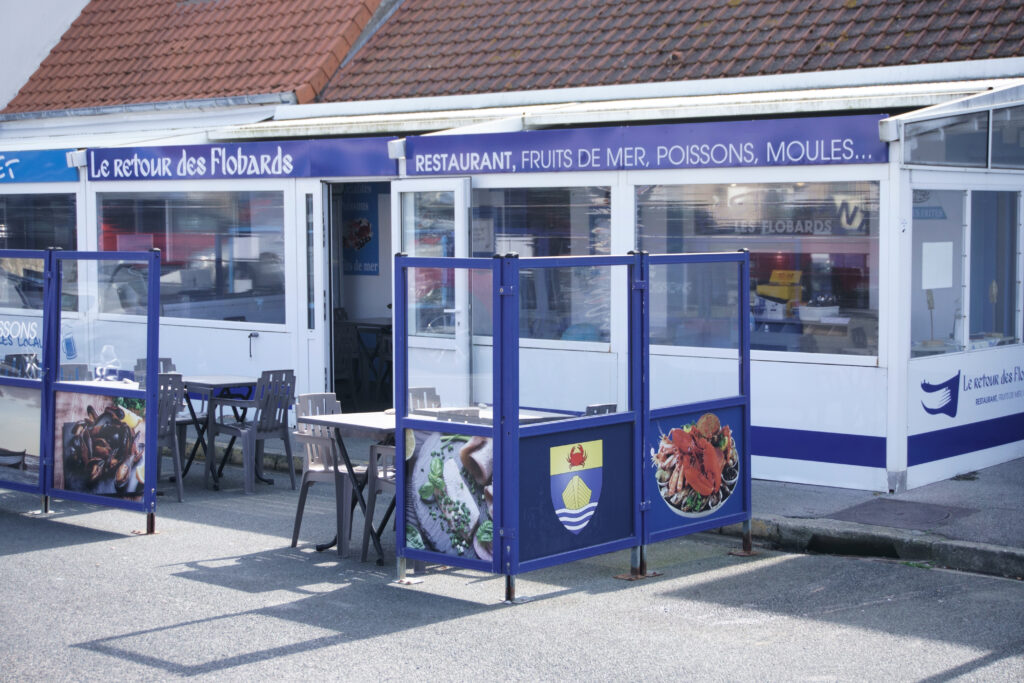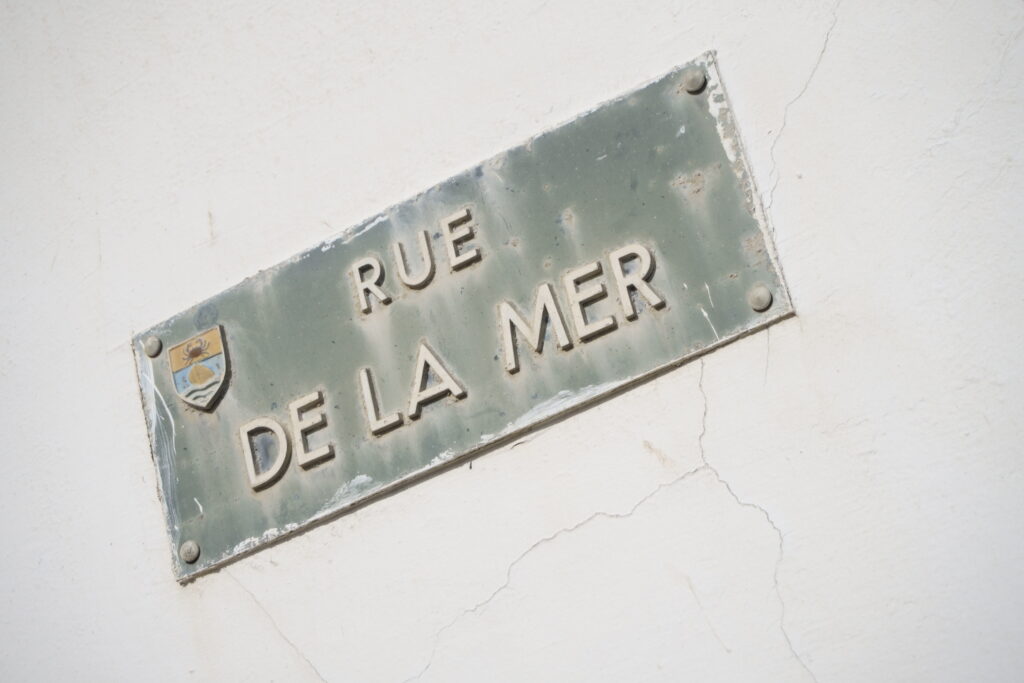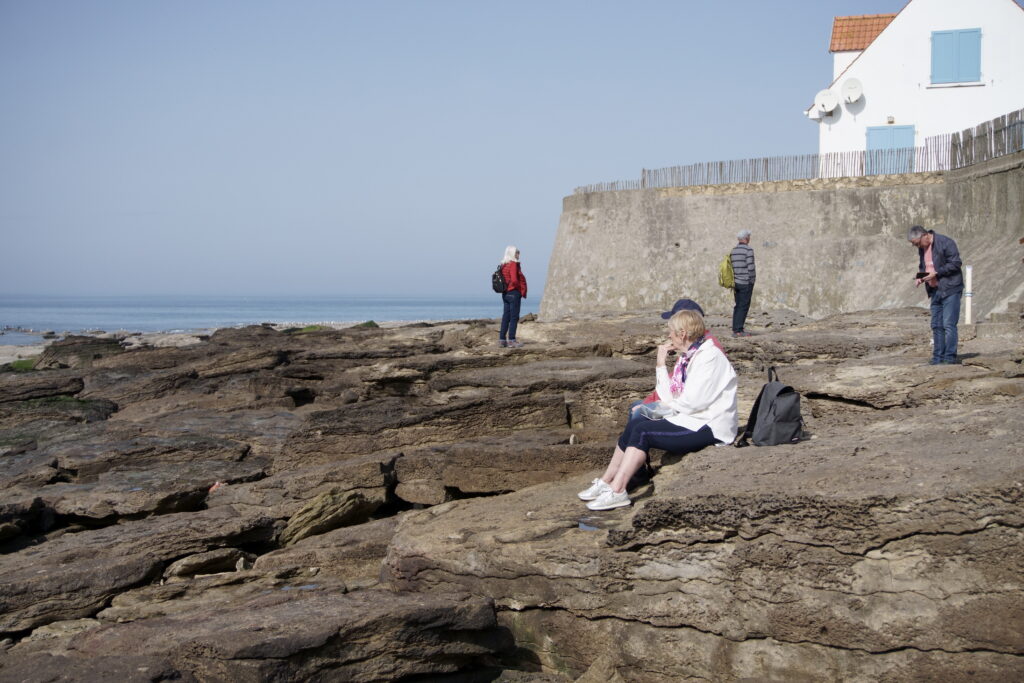 From here, it's only a four-minute drive to Ambleteuse, known for its imposing Fort Vauban, named after the military engineer who built it in the 17th century when Louix XIV decided to make the town a military port. Those interested in wartime history can visit Musée 39-45 where they can see thousands of artifacts, military clothing and a movie about D-Day and the Battle of Normandy. Not an option, since we were with our dog, so instead we walked along the boulevard and watched the waves pounding against the rocky shore below.
Our final destination is Wimereux, a ten-minute drive south. Wimereux is definitely one of the most picturesque towns on the Opal Coast. The Belle Époque mansions and Anglo-Norman villas lining its streets and boulevards are decked out in a rainbow of colors creating postcard-worthy views and a nostalgic atmosphere. I can almost envision Edwardian ladies donning ornate hats and coyly smiling at me under their parasols as they flaunt their corseted silhouettes along the boulevard.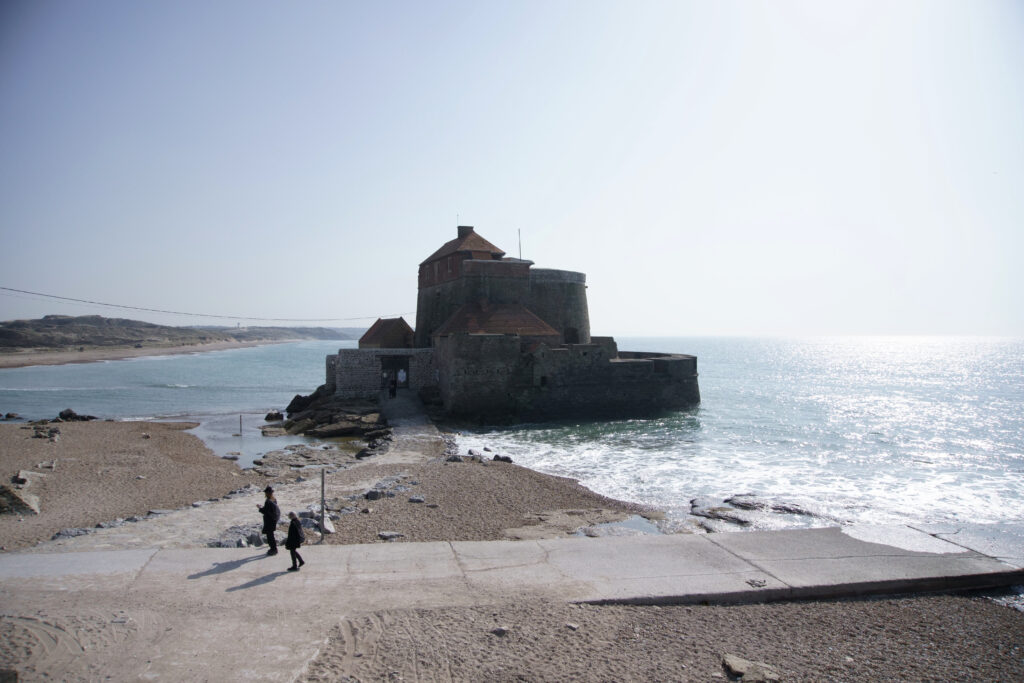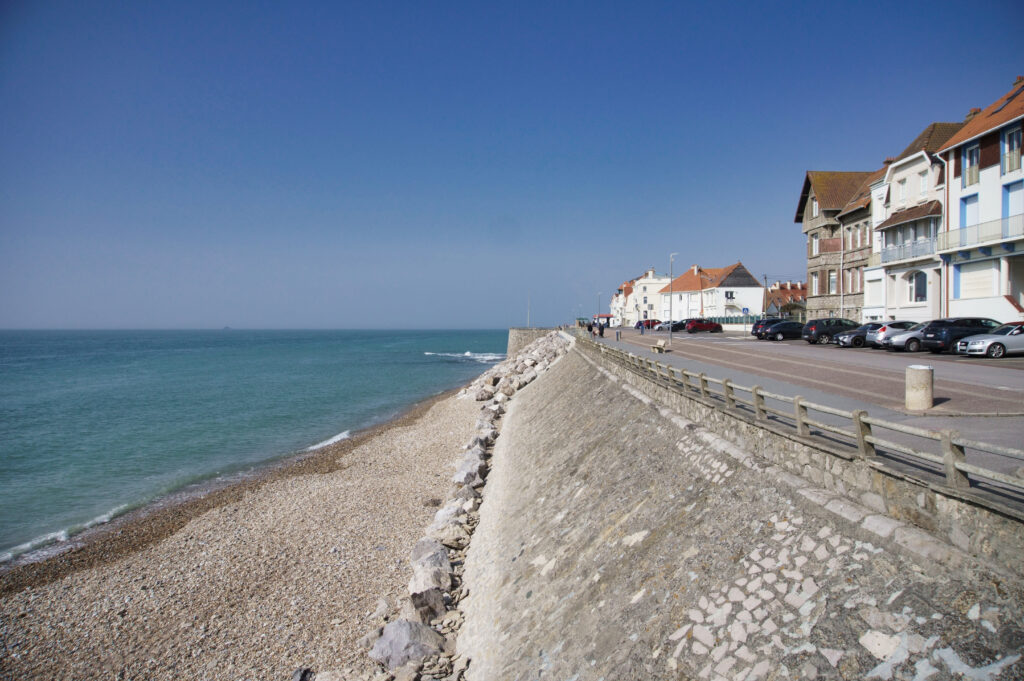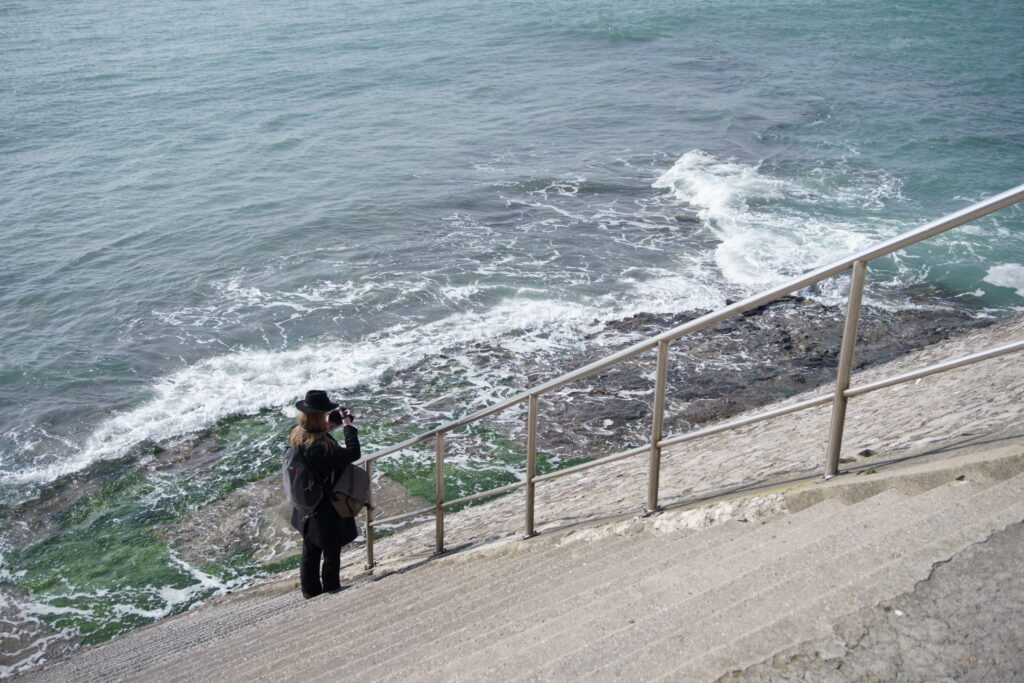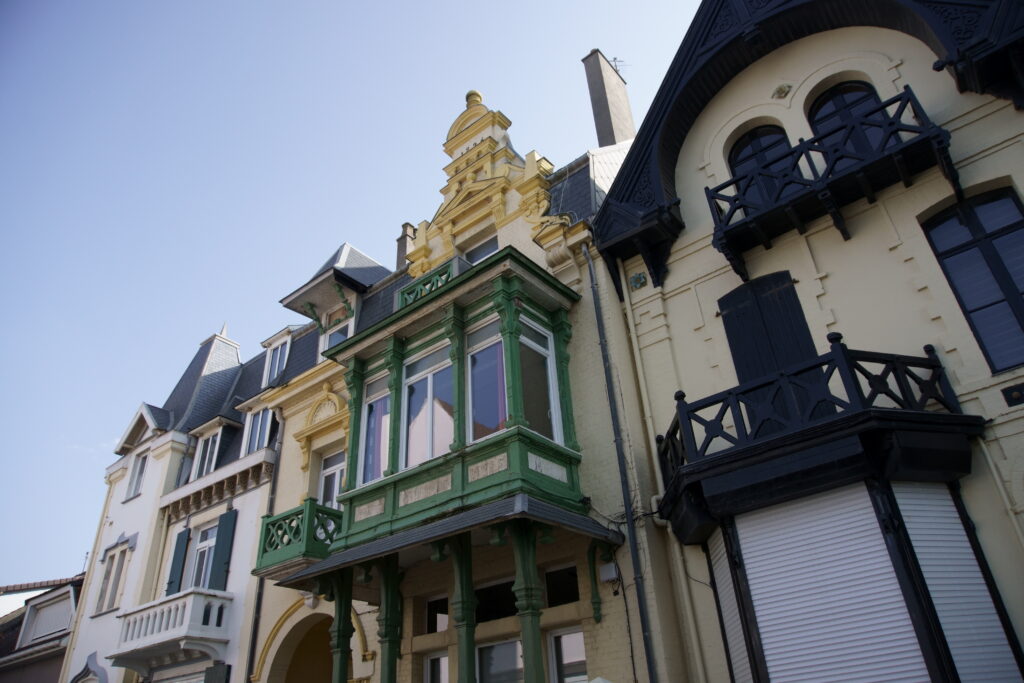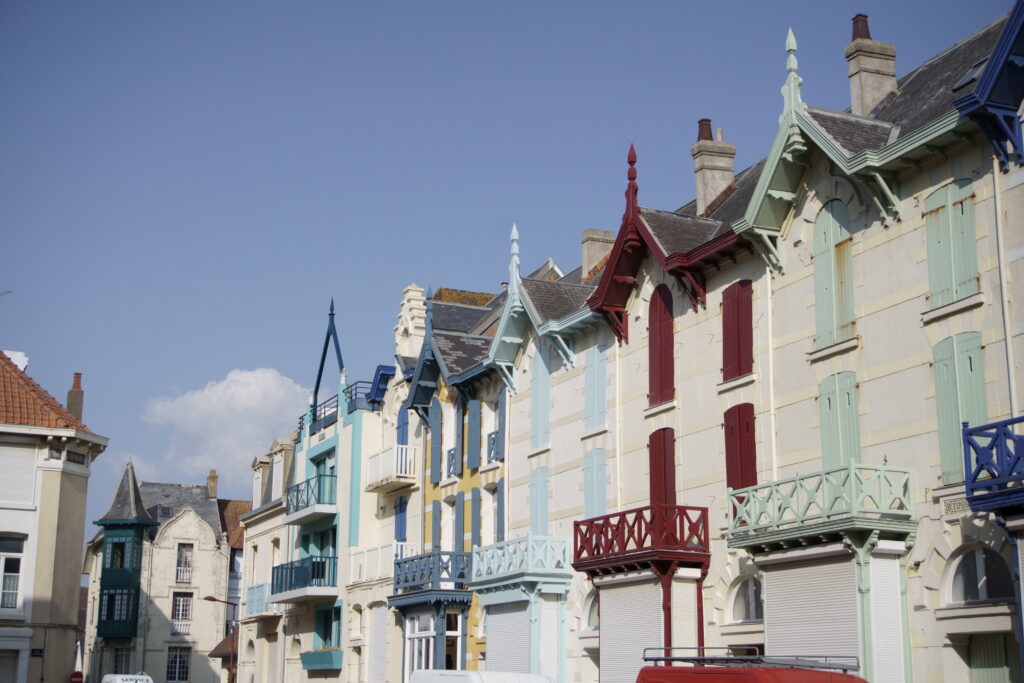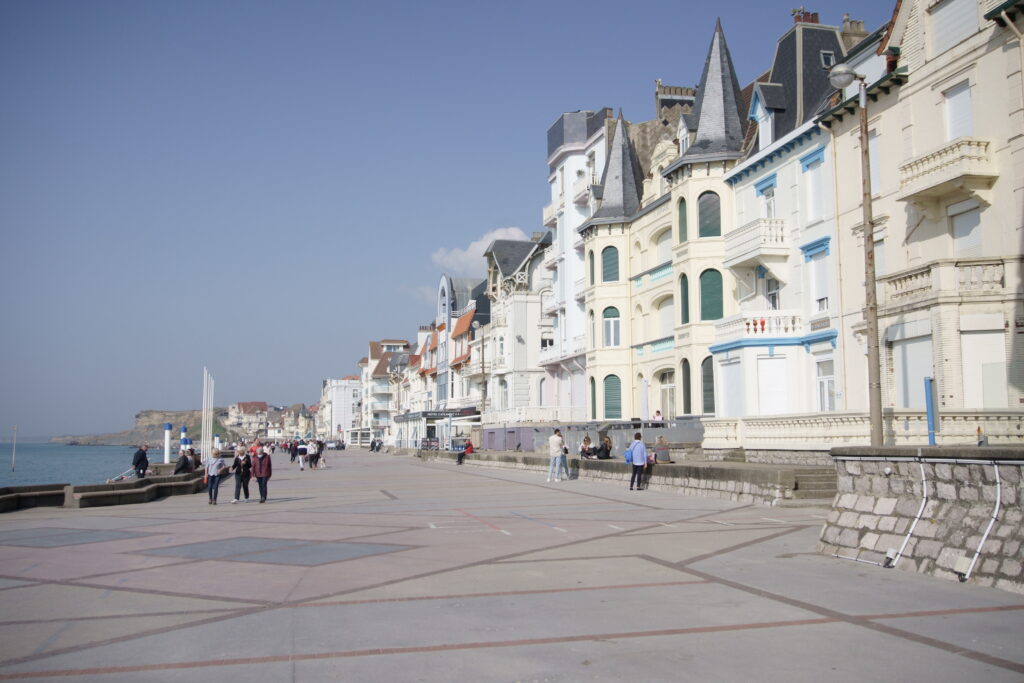 That evening we rounded off the first part of our journey along the Opal Coast with dinner at Le Spéranza, a hotel/restaurant housed in a characteristic building on rue du Général de Gaulle, just 20 meters away from the beach. There's plenty of seafood on the menu, but also a good selection of classic French carnivorous fare such as steak-tartare, ris de veaux and magret de canard. I came here to indulge my passion for poisson and started with a slice of fish terrine crowned with a dollop of briny samphire. The main, a choucroute de la mer with a medley of fish, mussels and shrimp piled voluptuously atop a layer of tangy sauerkraut looked almost too good to dig into. And it was. My only regret ? Not having booked a room here. The wine list is modest but covers every major winegrowing region. That bottle of Sancerre would just have to wait.
Stay tuned for the second part of our road trip through the Opal Coast when I'll take you along to Boulogne-sur-Mer.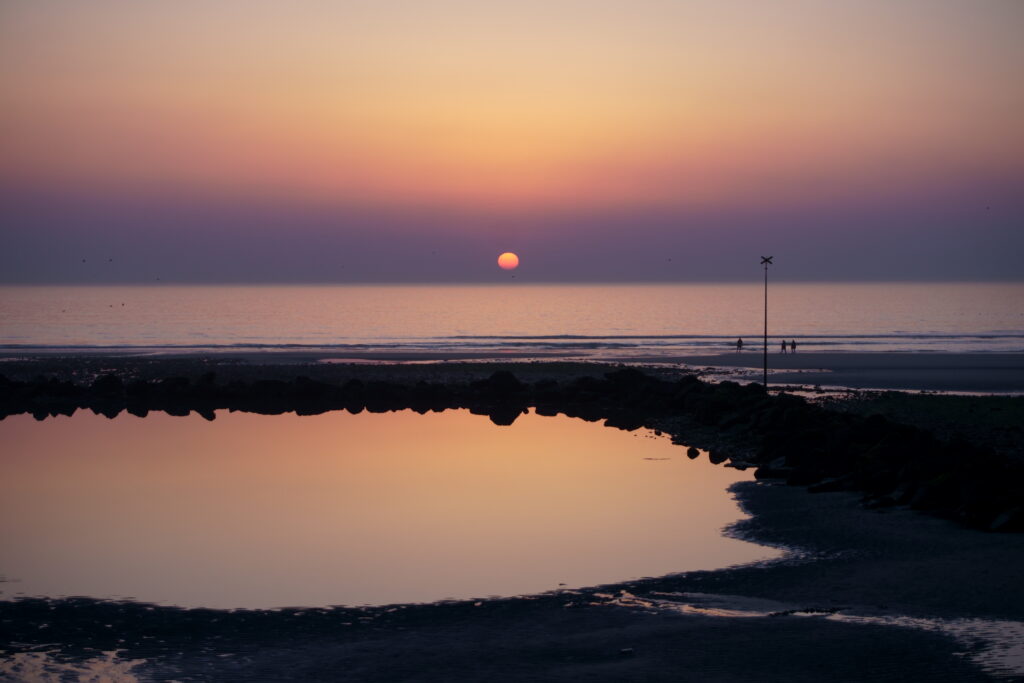 With thanks to: Pas-de-Calais Tourisme
Images: Hans Westbeek