Looking for great places to stay while visiting the Champagne wine region? Here are my recommendations.
In my previous post, I wrote about Magna Quies on 49 Avenue de Champagne in Épernay and Château de la Marjolaine in Essômes-sur-Marne. In this post, I would like to share a tip for those looking for a place to stay in France's 'Coronation Capital', Reims.

DISCOVER CHAMPAGNE (STAY IN REIMS)
Most of Champagne's vineyards are found between Reims and Épernay, two cities that make a great starting point for a tour of the wine region. From Paris, the TGV will take you from Gare de l'Est to Reims Centre in 45 minutes. Reims is one of the most important centers of champagne production and home to major champagne houses such as Taittinger, Mumm, Pommery. It is also known as the 'Coronation City' as 34 rulers were crowned at its 13th-century Notre-Dame Cathedral between 816 and 1825 . The cathedral is one of the city's three UNESCO World Heritage sites (the others are the Abbey of Saint-Remy and the Palais de Tau). If you're looking for places to dine or pause for a drink, head to the bustling Place Drouet d'Erlon where there are restaurants, brasseries and pubs aplenty.
LE CLOS DES ROYS
Spending a night or two in the city? Situated just a stone's throw away from the cathedral is Le Clos des Roys, a former trading house for fabrics and now a B&B run by the friendly couple Marie Anne and Gerard, who did everything to make us feel at home. I enjoyed chatting with Marie Anne about her travels through the Netherlands (she told me she was very fond of Volendam and Dutch flowers!), and Gerard treated us to delicious freshly made pancakes with our breakfast. It's all in the details!
Le Clos des Roys offers two rooms, Clovis I and Charles VII. We stayed at the Charles VII which had the most wonderful freestanding tub in a large bathroom with gorgeous tiled floors. Our bed was perfect, and I slept very soundly — even though the B&B is right in the center of town. The best part, of course, was the lovely conversation I had with Marie Anne while we had breakfast, which was taken in their salon and included buttery croissants, pain au chocolat (my favorite!), fresh baguette, homemade jams, butter and yogurt.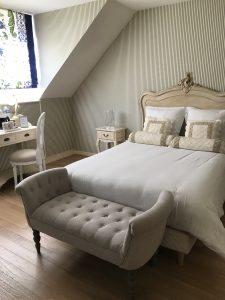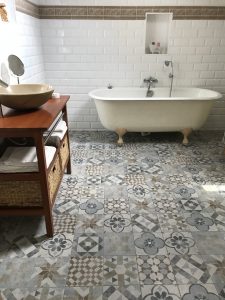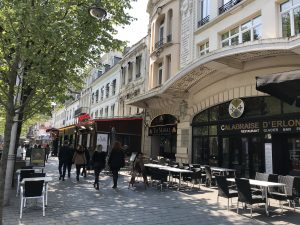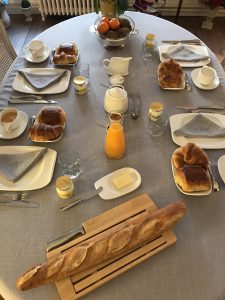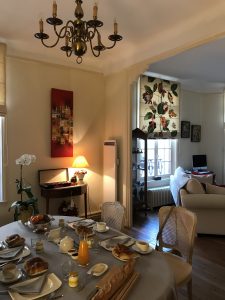 Le Clos des Roys
Rooms from € 100
3 Rue d'Anjou, 51100 Reims
Tel: (Fr) 06 75 28 34 85
leclosdesroys.fr