In the latest issue of Dutch culinary journal Bouillon, you can read my story on Monet's culinary world.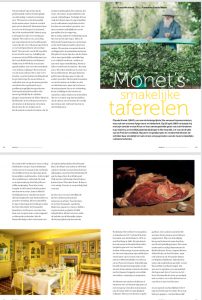 Claude Monet (1840), one of the most important 19th-century Impressionists, was a huge connoisseur. On April 29th 1883, he and his second wife, Alice and their family of eight children, moved to Giverny, a lovely country village in Normandy, just far enough from the hustle and bustle of the Parisian capital. After years of financial worries and uncertainty, the painter was finally able to fully enjoy the most delicious culinary experiences.
Featured in the summer 2018 issue of Bouillon.
Note: The article is in Dutch.
You can read the article here:  Monet (2)