Dishing it Up: The Story Behind 20 Icons of French Food & Drink is available on Amazon!
MY THIRD BOOK
After publishing Market Fresh Cooking: A Taste of the French Countryside last October and My Winter Kitchen: Warming Recipes for the Coldest Months just a month later, I have just released Dishing it Up: The Story Behind Twenty Icons of French Food & Drink!
PS: Check out a video of my book here!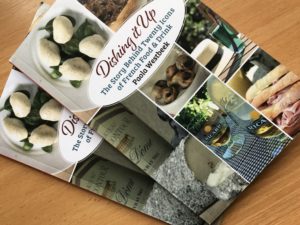 Food is more than just sustenance. Food is memories, traditions and love. Food, however, is also part of our culture. It is edible history passed down from one generation to the next. Nearly everything we eat and drink has a story, and for me, knowing that story makes me enjoy and appreciate what's on my plate (or in my glass) even more.
Join me in the following pages as I dish out a selection of interesting (and often surprising) stories behind some of the most popular French food and drink items. From when the first snails were devoured in France, to why you should order a jambon-beurre or oeufs mayo the next time you visit Paris, this book will take you on a gourmet journey that may just leave you hungry to discover more. Included after some stories is a recipe inspired by the product discussed. You'll be dipping the prettiest madeleines into your afternoon tea, baking up a pissaladière just as they do in Nice, serving pork chops in tangy mustard sauce, and much more.
Writing these brief food histories (previously published as culinary columns in the Dutch magazine En Route) has seen me through some of the most delicious research, discovering interesting recipes… and uncovering truths. PS: Can we please stop giving Henri Le Roux the credit for inventing caramel au beurre salé? And yes, there is a difference between 'canelés' and 'cannelés'!
Bon appétit!
You can order the book here: Dishing it Up: The Story Behind 20 Icons of French Food & Drink