This savory tart with broccoli, sweet red onions and goat's cheese is exactly what I needed to chase away the winter blues.
GO AWAY WINTER!
I am so done with the winter! As I write this post, flurries are dancing through the frigid February air, and it seems like the snow they predicted is really going to happen. To think that it was so beautiful this past week. Cold, though the skies were crystal clear and tiny little crocuses were peeping their heads through the earth with the promise of spring. I even spotted the first budding tulips! But alas. Winter is definitely still here.
BAKING AWAY THE WINTER BLUES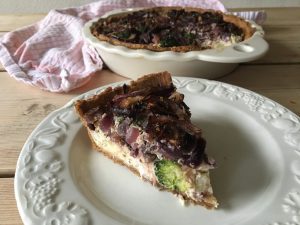 This type of weather always makes me want to bake. Pies, cakes, cookies, bread. As long as the oven is on and everything inside is nice and cosy, I really don't mind what's happening outside my window.
I especially love to bake a good savory tart. One that's richly filled with all sorts of delicious ingredients — and if it's somewhat healthy, all the better!
The following tart is made with broccoli, creamy goat's cheese and plenty of sweet red onions. It also features a whole grain crust seasoned with dried mustard and a generous amount of ground pepper. A glass of Merlot, a fireplace and a few candles. That's all you need to add to beat those cold weather blues — and I promise, it'll be spring before we know it!
NOTE: To make the recipe. I used the Revol porcelain pie pan. For more recipes with Revol, check out my apple & blackberry clafoutis, potato gratin with smoked duck and chestnut and cranberry terrine.
Savory Tart with Broccoli. Goat's  Cheese & Red Onions
Serves 4-6
Ingredients:
200g whole wheat

flour

125g cold butter cut into small cubes

1 tsp mustard powder

½ tsp fine sea salt

Ground pepper

One egg, whisked

Approx. 2 tbsps iced water
For the filling:
2 tbsps olive oil

350g red onions, halved and slices

Salt & pepper

250g broccoli florets

250 ml

crème fraîche

3 eggs

2 tsps herbes de Provence

2 tbsps breadcrumbs

125 g soft goat's cheese
Instructions:
Mix flour with, butter, mustard powder, and salt and pepper in processor at low speed for about 20 seconds or until the mixture resembles coarse breadcrumbs. Add the whisked egg and water and pulse until the dough comes together into a ball. If the dough seems dry, add an extra drop or two of iced water. Shape the dough into a disk, wrap it in cling film and refrigerate for 40 minutes. Grease a 25cm pie pan with a little olive oil. Roll out your dough on a floured surface and drape it over the prepared pan pressing it up against the edges. Trim off any excess dough. Prick the dough with a fork all over its surface and refrigerate while you preheat the oven to 190°C. Crumple a piece of parchment paper, place it on the crust and weigh it down with baking beans. Blind bake the crust for 10 minutes. The crust is now ready to be filled. Heat the oil in a frying pan and sauté the onions with salt and pepper for 10 minutes. In the meantime, bring a pan of water to the boil and blanch the broccoli florets for 2 minutes. Rinse with cold water to stop the cooking process and place on a clean tea cloth to dry. In a bowl, whisk the crème fraîche, eggs, herbes de Provence and salt and pepper. Scatter the breadcrumbs over the crust. Divide the broccoli over the crust and crumble in the goat's cheese. Divide the onions over the crust and pour in the batter. Bake for 40-45 minutes and allow to cool slightly before serving.