Charles Le Brun's L'Adoration des Bergers, painted in 1689 for King Louis XIV, captures the true essence of Christmas: the birth of Jesus Christ.

THE PAINTING
Depicting the birth of Christ in Bethlehem, Le Brun's painting is executed with vibrant orange and blue tones and has a lively narrative element with a variety of earthly and heavenly figures. When looking at the painting, the viewer's attention is immediately drawn to the center of the composition, where the miracle has just taken place. Clearly illuminated and bathed in golden light, we see Mary with the child Jesus resting on her lap. Her hand clutches at her heart and her gaze is turned up toward the heavens, as if overcome with joy, knowing that she has just given birth to the Messiah. That same focus is present at the top right of the painting, where a choir of angels celebrates the glory of His holy birth. Around Mary, we see the shepherds who have fallen prostrate at the sight of God made into flesh.
The work was part of a series focusing on the life of Christ, commissioned by King Louis XIV. It is held at the Louvre in Paris.
THE ARTIST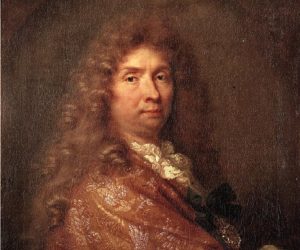 Born in Paris in 1619, Charles Le Brun was one of France's most renowned Baroque masters. He was not only a painter, but also an art theorist, decorator (known especially for his work in Versailles and Vaux-le-Vicomte) and head of several influential art academies of the time, among them the Royal Academy of Painting and Sculpture, for which he was a founding member.
Le Brun believed that art should rather appeal to the intellect instead of merely attracting the eye. His incredible talent was first noticed at the age of eleven by Chancellor Séguir, who had him work under Simon Vouet at the time. He later studied in Rome where he worked under Nicolas Poussin. Returning to Paris, he received many prestigious commissions, among them the painting of the ceiling at Galerie d'Hercule in Hôtel Lambert. In 1664, Le Brun went on to become court painter for King Louis XIV who referred to him as "the greatest French artist of all time". His most important masterpieces can be viewed at the Louvre. Charles Le Brun died in Paris in 1690.
Image credit: charleslebrun.com