Dream away with every turn of the page of French House Chic, an exquisite book that will inspire you in a multitude of ways.

DREAMS…
I have always fantasized about owning a French château. The majestic kind that you find deep in the French countryside. Those that even from a distance, make you gasp with admiration. A château in which every nook and cranny breathes the charm of bygone days and where details seem like something straight out of a fairy tale.
As a Francophile and a lover of history, these magnificent structures have always intrigued me. You can imagine my delight when years ago, my family and I came across an abandoned French château. I remember how we walked through the vast tree lined path that led to its front door and the magic I felt as I peered through the windows and saw what was probably once a reception room. It was noble and grand, with a huge fireplace, beautiful wooden floors and lovely wall paneling. But it wasn't meant for us. When we returned a few years later, the château had been sold. I often think about it, and about how wonderful it would be to live in such a marvelous place.
MAKING THEM COME TRUE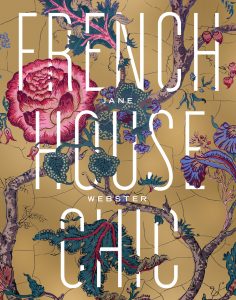 Owning a château  in France, however, is not really within everyone's reach. Both financially, and emotionally. It takes a lot of courage to embark on the bumpy journey of not only renovating an old château , but also packing up and moving to another country. In French House Chic, Jane Webster tells the story of how she, her husband and their four young children moved from Melbourne, Australia to Normandy where they made their home in a 19th-century château which had been abandoned for twelve years. She describes the struggles of embarking on the immense project of bringing the chateau back to life as well as how she dealt with the significant life changes of moving abroad: from questioning whether she had done the right thing for her family, to the language barrier and the inevitable feelings of homesickness. But despite the many challenges, she brilliantly succeeded in fulfilling her dream and exquisitely restoring Château Bosgouet back to its former glory. The narrative that opens the book, was especially encouraging to read. If there is one inspirational message I took, it was the following:
"…I had a committed belief that if you are chasing a dream that is almost an integral part of who you are then it must, at some point, all fall into place."
FRENCH STYLE IN YOUR OWN HOME
French House Chic is not only a personal account of chasing and realizing dreams, but it is also a wonderful book for anyone who wants to beautify their home with French charm. The author is an expert at cleverly explaining elements of style such as parquetry, upholstered walls, French paneling, gilded mirrors, toile and so much more. Her expertise and knowledge is combined with interesting historical facts, making this book as much informative as it is a joy to read. The book includes plenty of visual inspiration with handsome images that take you inside some of the most stunning and gorgeously decorated French homes. At the back of the book, there is a handy address list featuring some of the author's favorite suppliers, creators and stores.
No matter what kind of home you live in, French House Chic will provide plenty of ideas for your own home. And, it is proof that with hard work and motivation, dreams can become realities.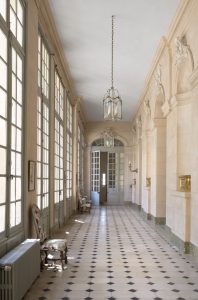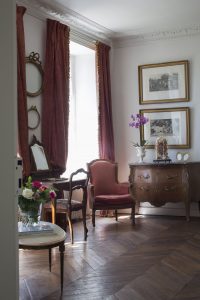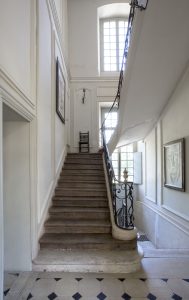 Images:
Top: Courtesy of Thames & Hudson
Bottom: © Robyn Lea
French House Chic
Thames & Hudson, £29.95
ISBN: 9780500500965