Alto Duo launches first collection of fine linens, lamps and furniture
From the crockery to the choice of linens, when it comes to setting an attractive and welcoming table, it's definitely all in the details. Based in Dordogne, furniture and textile design company Alto Duo recently launched their first collection of linens to add an elegant splash of color to your table. The eye-catching designs are the work of Paloma Morand-Monteil. Paloma and her brother Mayeul inherited their entrepreneurial enthusiasm and eye for quality from their parents, Gérôme and Dolores Morand-Monteil, founders of Château Terre Vieille in Pécharmant, an appellation of the Bergerac wine region known to produce the finest reds.
I visited Château Terre Vieille last November and was not only impressed with Paloma's enthusiasm and love for her work, but with the family's wines, which I certainly enjoyed tasting with Pierre (Paloma's older brother), who took over the vineyard just a few years ago after having honed his skills in Chile, Argentina and North America.
HISTOIRE
The history of Château Terre Vieille in Pécharmant started in 1989 when Gérôme and Dolores bought and planted a patch of land on the Domaine de Grateloup, once owned by French philosopher Maine de Biran. The couple had just gotten married and was starting a family, but the fact that it would take a few years before the vineyard would prove productive did not stop them. In fact, neither did the frost that settled over the vines in March of 1991, ruining what should have been Terre Vieille's first vintage. "My father is an entrepreneur and has always loved taking risks," Paloma explains. Today Château Terre Vieille boasts 15 hectares of vineyards.
ENTREPRENEURIAL SPIRIT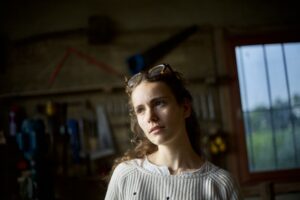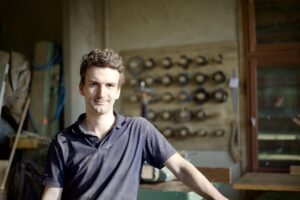 Following in their parents' footsteps, Paloma and Mayeul decided to launch their own business while continuing the family legacy of quality and innovation. Paloma: "It's important for us to be able to combine work with family life, so we set up our company here, where it all started. Our prototypes are made on-site with wood from our forests. When we make things, we use what we have close by, and that's why our products are crafted in Sarlat."
While studying business in Lyon, Paloma had the chance to travel to New York City, where she took up drawing. Though at first, she toyed with the idea of designing scarves for Hermès, she found her calling pouring all her creativity into linens. Last autumn, she presented her collection of tablecloths (with matching napkins) inspired by Amazonian landscapes and tea towels in bold hues and geometric/graphic patterns. The tablecloths (available in two sizes: 170 x 250 and 170 x 350 cm) and tea towels are made from a mix of quality linen and cotton woven in the Vosges, a region known for its textile-making savoir-faire.
Mayeul, who studied product design at l'École de Design de Troyes, creates Alto Duo's striking lamps and wooden furniture. I was especially charmed by his standing Giraffe lamp, which towering at 2.30m, is impressive yet playful.
With the creation of Alto Duo, it's evident once again that the wonders of Dordogne extend beyond the incredible landscapes and pleasures of the table. Here, it all revolves around a commitment to remaining faithful to a land long characterized by traditions and craftsmanship.
Alto Duo
Note: In the US, Alto Duo's linens are also available through Charish.
With thanks to Comité Départemental du Tourisme de la Dordogne