My article on the Lot department, published in French Property News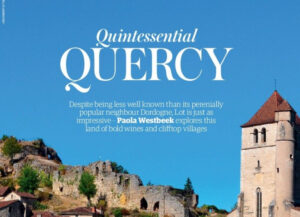 Lot: Land of bold wines and clifftop villages
Located in the northwest of Occitanie, Lot combines natural splendour with historic allure. Though in recent years the département has gained favour with international buyers, it remains less popular than neighbouring Dordogne, offering more space, tranquility and endless possibilities to indulge the senses. This rugged corner of the ancient province of Quercy, characterised by arid limestone plateaux (causses) and home to nearly 2,000km of waterways, beckons you to savour the great outdoors with everything from cycling past lush vineyards to boating along placid rivers. Come and stroll through Lot's eight plus beaux villages, discover major tourist draws such as the awe-inspiring Rocamadour, and at the end of the day, sit back with a glass of Cahors wine.
Read the full article, published in the November 2020 issue of French Property News here: Quercy