Johannes Landman tells us about Marne and his beautiful property, Château de Villers.

I interviewed Johannes Landman, former Dutch diplomat, who now lives in a beautiful and historic castle in Villers. Parts of the interview were published in the article Champagne Lifestyle (autumn 2019 issue) of Living France.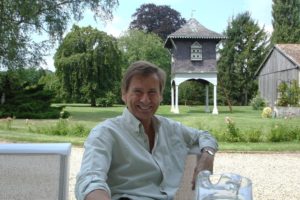 1) What is your profession and where are you originally from?
I was a diplomat, representing my country, the Netherlands, in several parts of the world, but in particular in Europe and at the United Nations in Geneva and New York. 
2) When did you move to Marne?
 bought the estate of Château de Villers in the midst of the majestic Argonne forest in 1994 as a permanent holiday destination while our three children were still very young. I had discovered the region when I met my wife, her parents having retired to that area. I immediately fell for the charm of, in particular, that eastern part of the Marne called Argonne, actually at the border between two historical regions, Champagne (Marne) and Lorraine. By chance around that time, this centuries-old property was for sale, situated on a hill overlooking the village and a beautiful countryside of meadows and forests.
3) Why did you decide to set up a business there specifically?
The dépendances (outbuildings) of the château were in a dire state and constituted an almost bottomless pit. To help us meet the costs for all the work to be done and for the upkeep of the estate, we transformed one of these outbuildings (the hunting lodge) into a holiday cottage with an East Wing, which sleeps 6-8, and a smaller West Wing with two bedrooms, to be rented separately or as a whole. Recently, we restored The Great Stable, with a spacious loft and large balcony overlooking its own private garden. It sleeps 2-8.In 2009, I retired from diplomatic life, and we decided to make Villers our main home instead of establishing ourselves near The Hague as originally planned.
4) Tell me about Château de Villers? What do you offer and what makes it unique?
Since the times of Jeanne d'Arc, this region witnessed many wars of which The Great War (World War I) was the most destructive. The French Revolution was particularly ferocious in this border area and obvious passageway into France for Austrian and Prussian troops. That explains why not many castles in this area survived destruction. In fact, Château de Villers was one of three castles belonging to the family of Adelaïde de Chamisso, the world-famous writer, poet, explorer and biologist, whose bestseller fable Peter Schlemiel: The Man Who Sold His Shadow, inspired several other famous writers and is still widely read and published in many languages. And it was the only one that survived, since the head of that branch of the family was unable to flee for the Terreur of the Revolution and actually died in Villers, leaving a widow and five children. The other two castles were sold and destroyed, the remnants being used as building material.
Not only the relative rarity of such historical houses over here and the historic connection with Adelbert von Chamisso – he Germanised his name, having fled with his family in 1793 to Berlin, making his career over there and even becoming the national poet of Germany during the first half of the 19th century – but also its particular geographical position, overlooking Villerse on one side and the great Argonne forest on the other, make this site so unique and exclusive.
Apart from the lodge and loft, with rooms with a view, classic furniture (meubles d'époque), open fireplaces and all modern amenities, the estate is very child-friendly with a playground, a Ping-Pong table, bikes and a large pool on about six hectares of land, of which three are totally at the disposal of the guests. The castle park, with several very rare and exceptional trees, and the château, are illuminated one day a week (mostly on Thursdays) and accessible for all guests.
5) When did you buy the property?
I bought the castle and castle park together with a barn and a remarkable pigeon tower – the status symbol par excellence of the French aristocracy in the 17th and 18th century – in 1994.
The other part with the main outbuildings and the house of the caretaker and his wife was bought thereafter in two stages before the end of the century. 
6) How did you go about buying your property? Was it difficult?
Yes it was difficult. This property stayed in the same family for more than four centuries. The last Chamisso died in 1902. It was then sold and came on the market again in the 90s. But the inheritors didn't want to sell all at the same time. There was even a plan to transform the remaining part into a campsite right at our doorstep, which caused us quite some sleepless nights. In the end, I managed to buy it all – all the buildings and six hectares of gardens, an orchard and a park; most of the farmland and woods that once belonged to the lords of Villers (and some other villages) had been lost and sold long before.
7) Can you tell me a little about the village of Villers-en-Argonne where the property is located?
Villers is described on old postcards and in travel guides as a charming village on the edge of the Great Forest. Although very close to the Marne and Argonne battlefields, it remained untouched during the First World War. Unfortunately, it was heavily bombarded and burned down in 1940 because of strong French resistance. Its 16th-century church was heavily damaged but magnificently restored and rebuilt in the 50s. It was a miracle that the château survived. Only its roof was partly destroyed and restored in the 50s. But there are still some stigmata on the façade. The beautiful main (Renaissance) entrance still shows the impact of a piece of shrapnel.
The village has a great goat cheese producer with about one hundred goats, and visitors are most welcome. There is also a pony club and an equestrian school.
The village has approximately 280 inhabitants. There is a programmed walking circuit along various idyllic and interesting spots or sights. It's also a perfect place for fishing and bicycle tours or crossing, and bikes are available.
8) Can you briefly describe the Marne department?
The Marne covers the major part of the historic region of Champagne and is most famous for its sparkling wines and its two wine capitals, Reims and Épernay. There are three other relatively large and historic cities: Châlons-en-Champagne, Vitry-le-Francois and Sainte Ménehould, where the inventor of the methode champenoise, Dom Perignon, was born in 1639. I live eight kilometers from Sainte Menehould.
While most of the Marne department is flat, the Sainte Ménehould – Argonne area is hilly and wooded with many creeks and ponds allowing for wide vistas of ever-changing landscapes and little villages with centuries-old churches dotted all along. At least they survived all the war and strife in this particularly contested border area rather well.
9) What do you enjoy most about life in Marne?
The part, where I live. The space and emptiness, the silence, free of air and light pollution; the majestic forest where the oak tree is king, full of deer and boars and other wildlife or flora (mushrooms!). The weather is great – summers are normally hot and sunny, and in these times of climate change, spring and autumn can also have pleasing temperatures. Autumn, in particular, is spectacular because the forest shows so many shades of gold.
10) Marne is a very green department. For people who enjoy the outdoor life, where do you recommend they go?
The area where we live with Sainte Ménehould is by far the most attractive in that sense. Come and see the Argonne area where we live and where all outdoor activities are possible. Also water sports – the Lac du Der is only sixty kilometers away, a famous place for bird watchers, but also one of Europe's largest artificial lakes with plenty of facilities for sailing, electric boating, etc. There is even a casino now.
Geographically speaking, Villers is halfway between Reims and Nancy the capital of Lorraine; between Châlons-en-Champagne and Verdun. Culturally speaking you can easily enjoy both sides of the borderline, that is, beautiful cities like Nancy and Reims; the WWI battlefields of Verdun or the renaissance town of Bar-le-Duc and the beautifully restored city of Châlons-en-Champagne, which, although for centuries a military stronghold, remained intact and was never bombarded.
11) Besides cities such as Reims and Épernay, and Champagne tastings in cellars, what are some must-sees/must-dos for people who are only visiting Marne?
It depends on how much time they have and how long they stay.
Apart from the places I mentioned and the possible activities, I would recommend enjoying the local cuisine, in particular Reims, Épernay and Châlons have excellent restaurants, but there are plenty little restaurants in the countryside with good food and wines, and at pretty low prices.
Those interested in history, in particular the First World War (1914-1918), should not miss the many vestiges, memorial sites and spectacular monuments at spectacular sites erected in the Argonne in particular by the Americans, the French and the Germans. The countryside is full of them.
12) Do you have any tips for people who want to buy property in the department?
Marne is among the least known and least popular of the departments of France. It is too much associated with wars and destruction. This lack of interest is unjustified, but the advantage is that you can still find attractive property here, maisons de caractère, as some are called, at relatively low prices. It helps if you are handy yourself, because the work of restoration and renovation is not that cheap – but still a lot less than what one pays elsewhere in the more popular and populated departments.
13) And for people who only want to live there?
Quite some foreigners do have their main residence here and are happy. But a word of caution: the winters here can be long, gray and cold in the countryside, perhaps a little less if you choose to live in Reims or Châlons. It is important to live in a cozy home, well isolated, and to have plenty of hobbies indoors and outdoors. Most families with a second residence over here live in Paris and come here in the period between Easter and November.
Images courtesy of Johannes Landman. For more information, please visit Château de Villers.
Looking for places to dine in Champagne? Read my reviews published in the September 2019 issue of France Magazine. In the mood for a road trip? Have a look at my article published in July 2019.