My much-anticipated visit to Bouillon Pigalle in Paris.
MY KIND OF FRENCH FOOD
It's hard for me to choose favorites when it comes to French food. Don't ask me whether I prefer a rich coq au vin or a meaty cassoulet. And how can I ever decide if I like a vanilla-speckled crème brûlée more than îles flottantes? One thing is certain, however: I am not impressed by cleverly placed dots of sauce or other forms of restaurant 'art'. To me, real culinary artistry is present in hearty, well-prepared and authentic dishes. You are more likely to see me at simple brasseries enjoying a humble confit de canard with a carafe of house wine than rolling my eyes at the skimpy, pompous dishes served at some Michelin-starred restaurants. That kind of fanciness just isn't for me.

THE BEST OEUFS MAYONNAISE
When I first heard of Bouillon Pigalle back when it opened in 2017, the concept immediately appealed to me. A laid-back eatery serving classic French dishes at modest prices and with excellent service. You can imagine my excitement when I also discovered that Bouillon Pigalle happens to serve the best oeufs mayonnaise. And no, I'm not making false claims here. In fact, on June 3rd, the restaurant's oeufs mayo were voted the best in the world (although most competitors were based in Paris) by ASOM. In case you didn't know, that's the Association de sauvegarde l'oeuf mayo, or the Association for the Protection of the Egg Mayonnaise. Yes, they exist.
I now had an even bigger reason to visit Bouillon Pigalle, so we decided to book a hotel in Paris on our way home from a little Champagne getaway (more on that later) especially for that reason. I had to taste those eggs… and the rest of the menu (with classics such foie gras, terrine de campagne, boeuf bourguignon, blanquette de veau, brandade de morue, tête de veau, clafoutis, profiterole and riz au lait) not only made my mouth water, but made me slightly anxious – how on earth could I ever choose?!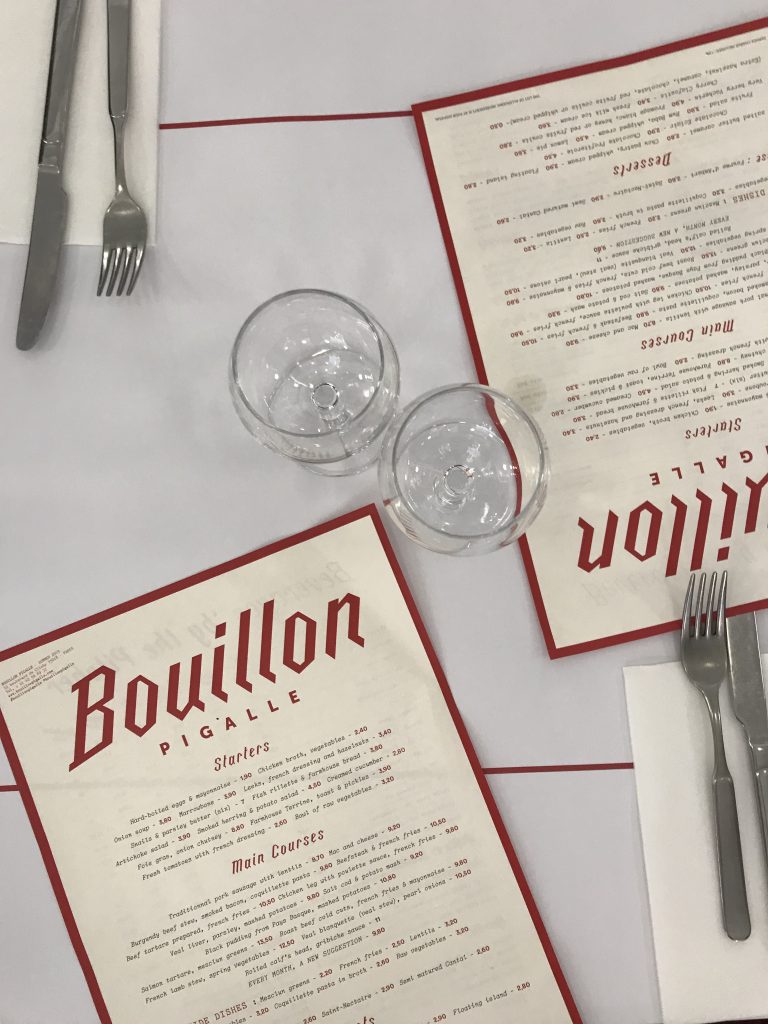 A LITTLE HISTORY
The city's first bouillons opened in the mid 19th century. When trying to find a way to put leftover cuts of meat to good use, butcher Pierre-Louis Duval came up with the clever idea of serving them in a bouillon to the Parisian working class (hence the name of the eateries). The concept caught on, and by the turn of the century, Paris counted some 250 bouillons. But tastes evolved and more elaborate forms of dining were prefered over modest meals. Today, only a few bouillons still exist, among them the updated Bouillon Chartier and Bouillon Julien, with Pigalle being the newest.
THE EXPERIENCE
So on a warm October afternoon, we made our way to Pigalle, hoping the queue wouldn't be too long (the restaurant doesn't work with reservations), and wondering how our pup Charlie would handle both the wait and the meal. Luckily, although we had to wait about half an hour, having Charlie was a good way to chat with everyone around us. I also had plenty of time to soak up the lively atmosphere and admire the pretty interior.
Soon after we were seated, a friendly waitress took our order and Charlie drifted off to sleep under the table. The eggs (€1,90) came moments later along with a basket of rustic bread, water and a bottle of Côtes du Rhône (€9,90). We filled our glasses, toasted and proceeded to enjoy the loveliest and most convivial of meals. My tartare de boeuf and my husband's bifteck (both €10,50) were delicious and came with the best frites ever – golden, crisp and salted to perfection. All restrictions went out the window. I didn't leave a single crumb on my plate.
For dessert, I opted for the  île flottante (€2,80) and strongly suggested that my husband choose the profiterole (€4,50, Pigalle has a Story on their Instagram page solely dedicated to this chocolate-covered beauty). With coffee, our meal cost us a modest €45,20. While having dessert, the couple next to us struck up a conversation; it's impossible not to be social as the tables are merely inches apart! We got along so well that we even ended up walking to Sacré-Coeur together afterwards.
Having lunch at Bouillon Pigalle was truly a wonderful experience. And yes, the oeufs mayonnaise were tangy, unctuous and utterly fabulous. I'm desperately longing to go back.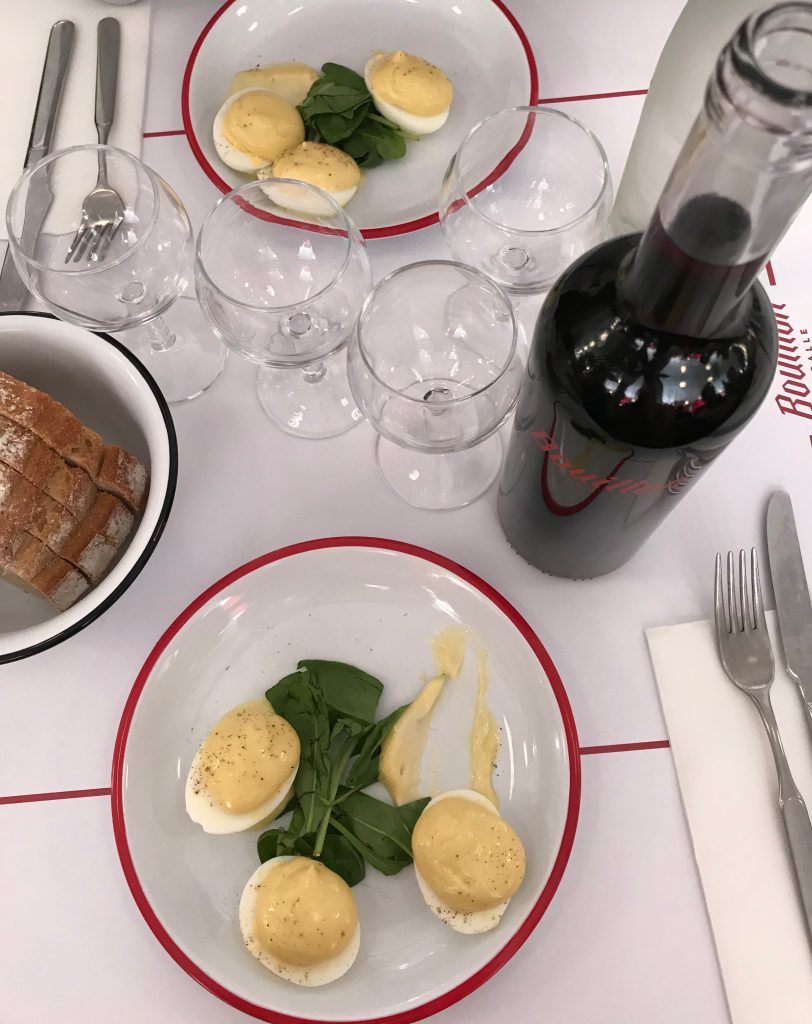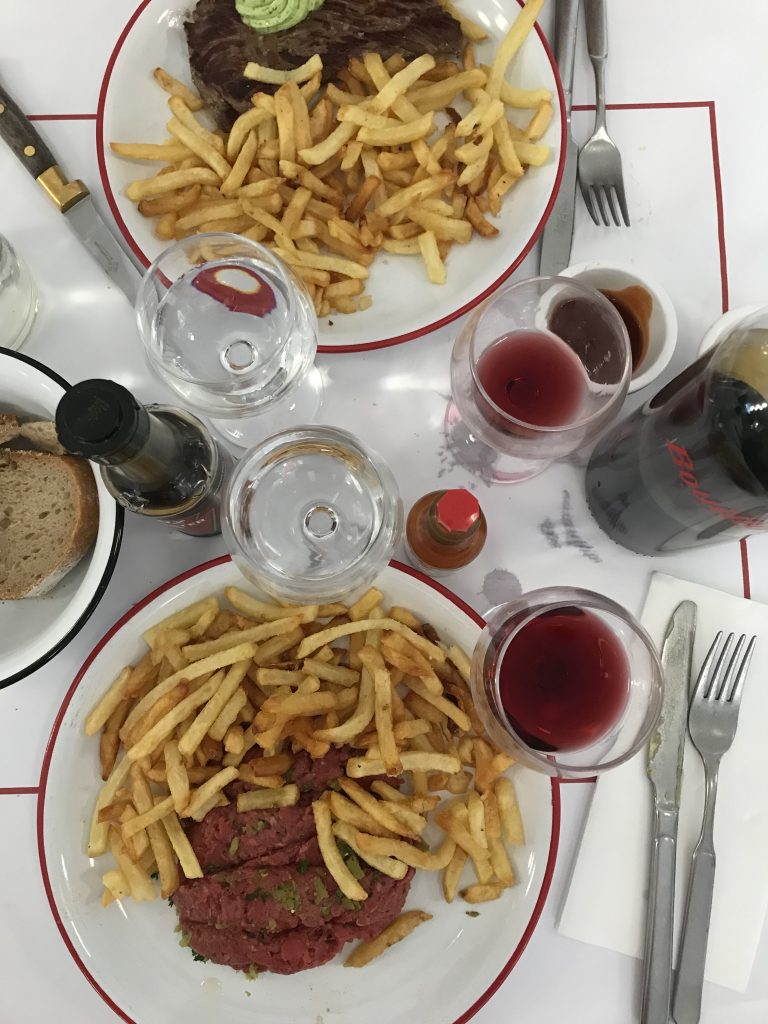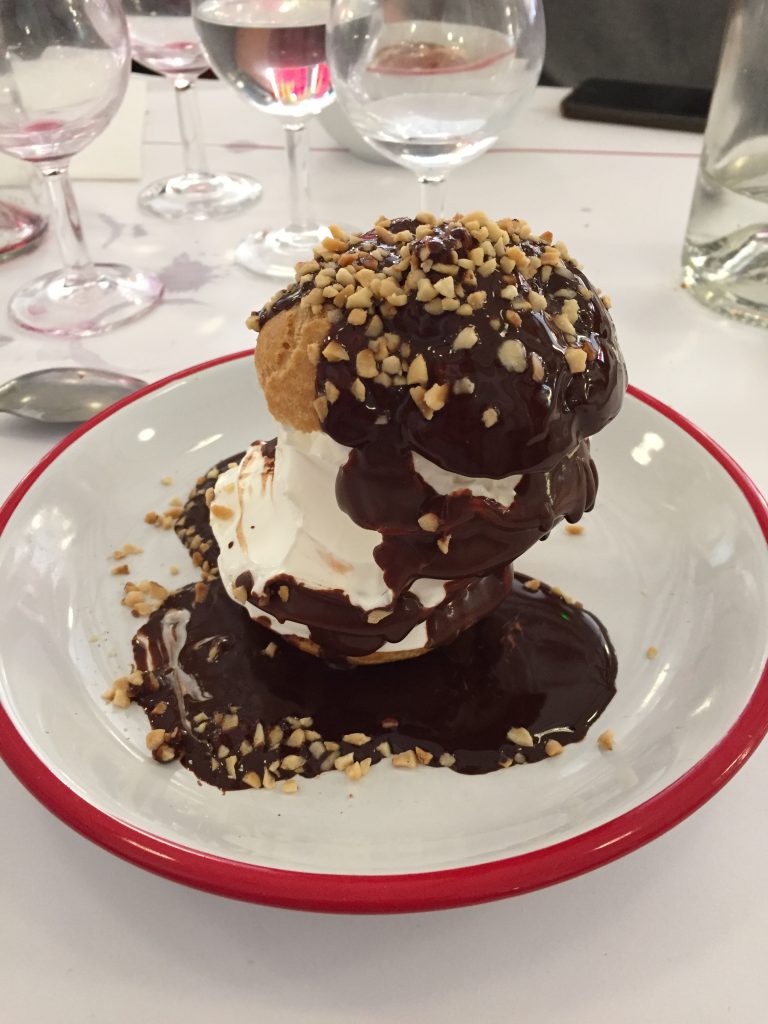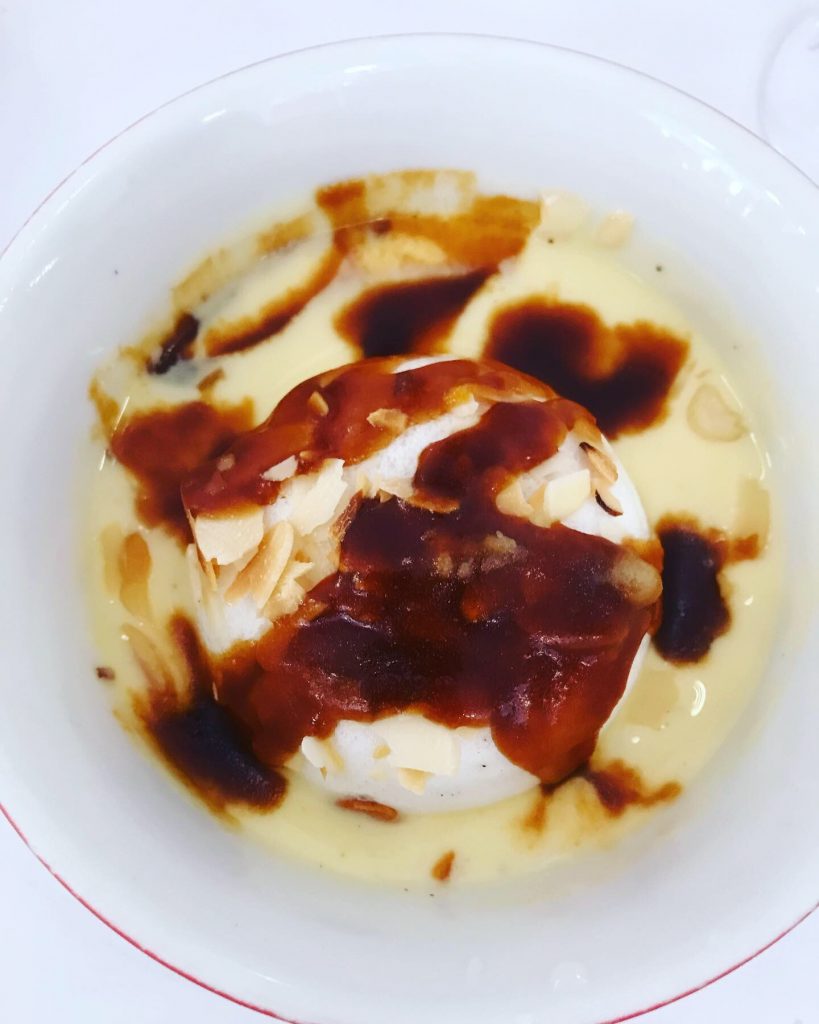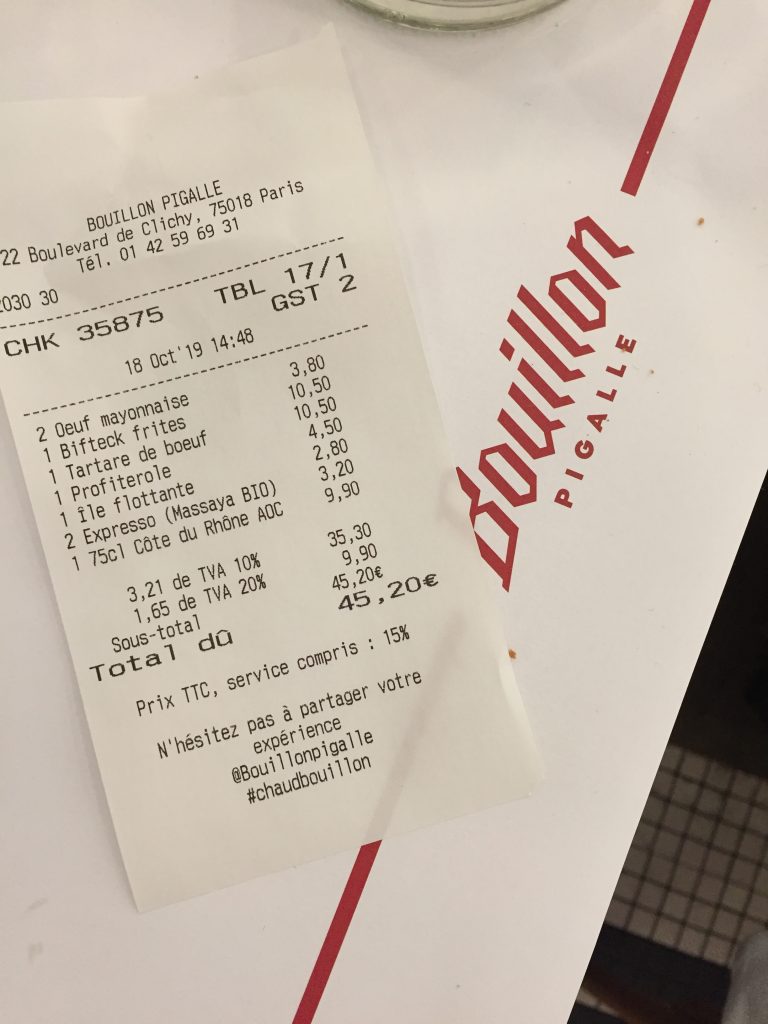 Bouillon Pigalle
22 boulevard de Clichy, 75018
PARIS