It's apple season! How about making these delicious French apple turnovers? They're delicious for breakfast or with a cup of tea.

FRENCH APPLE TURNOVERS
Years ago one Sunday morning as I waited to order our viennoiserie at the boulangerie on Rue Paul Persil in Duras, I noticed many people before me asking for a pastry called 'chausson aux pommes'. I had seen the pastry before, but I did not know its name. In that instant, I decided to skip my pain au raisin and order one instead. And that wasn't a bad choice at all.
These French apple turnovers are delectable for a weekend breakfast, especially in the autumn and winter, but the best thing about them is that they are one of the easiest pastries to make. If you use ready-made flaky pastry, the most trouble (if you want to call it that) is making the apple compote. The first time I made these my husband walked in the house and said it smelled "like a French bakery". Now that certainly encouraged me to make them more often!
Chaussons aux Pommes
Makes 4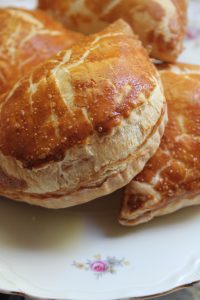 Ingredients:
Knob of butter

2 sachets vanilla sugar (8g each)

2 small Royal Gala apples (

approximately

300 g), peeled, cored and roughly chopped

Pinch of

fleur de sel

1 egg, whisked

1 (43cm) rectangle of ready-made puff pastry
Instructions:
First, make the compote. Melt the knob of butter in a saucepan and once melted, stir in the vanilla sugar. Add the apples and salt and cook on a low-medium heat for 20 minutes, stirring frequently. The apples should be very soft, but still hold their shape (you don't want applesauce). Once cooked, leave to cool completely. When ready to bake, line a baking sheet with parchment paper. Roll out the puff pastry on a well-floured surface, fold it in half once and roll out again. Cut out 4 circles using a round fluted pastry cutter measuring 12cm. Roll out the circles slightly to an oval shape of about 20cm. Place the pastry ovals on the baking sheet. Brush the edges of the pastry with whisked egg and divide the apple compote over the middle of each one. Fold the pastry over and press down on the edges to seal. Using the tip of a knife, score the edges to create a pretty effect. Make an air hole on the edge of each pastry using a skewer. Pop the pastries in the fridge for 15 minutes. Preheat the oven to 180°C. Brush the pastries with the rest of the egg and bake for approximately 25-30 minutes. Serve warm.