One of the best things about press trips is the people you meet. People like Liliane Jacquet-Pierroulet of Le Crêt l'Agneau.

THE JURA MOUNTAINS
Last week I spent four memorable days discovering the Jura Mountains with a group of fellow journalists and the lovely Véronique Beigenger, public relations manager at Bourgogne-Franche-Comté Tourisme. Véronique had assisted me several times with finding images for my articles, but we had never met. I was delighted when she sent me a selection of upcoming press trips and told me to choose!
Included was a trip to the Jura Mountains, a part of France I had yet to discover and one which I immediately fell in love with. Just imagine sprawling landscapes with slopes dotted with Montbéliarde cows and pretty chalets amidst impressive mountains and you have an area that's as close to paradise as you can possibly get. The Jura Mountains exude serenity and a rustic charm of days gone by. Life is simple there — and it's definitely good.
Our travels took us from Doubs in the north to Ain in the south, and along the way, we not only feasted our eyes on some of the most awe-inspiring panoramas, but also discovered the local foods and traditions of a gentle and utterly hospitable people.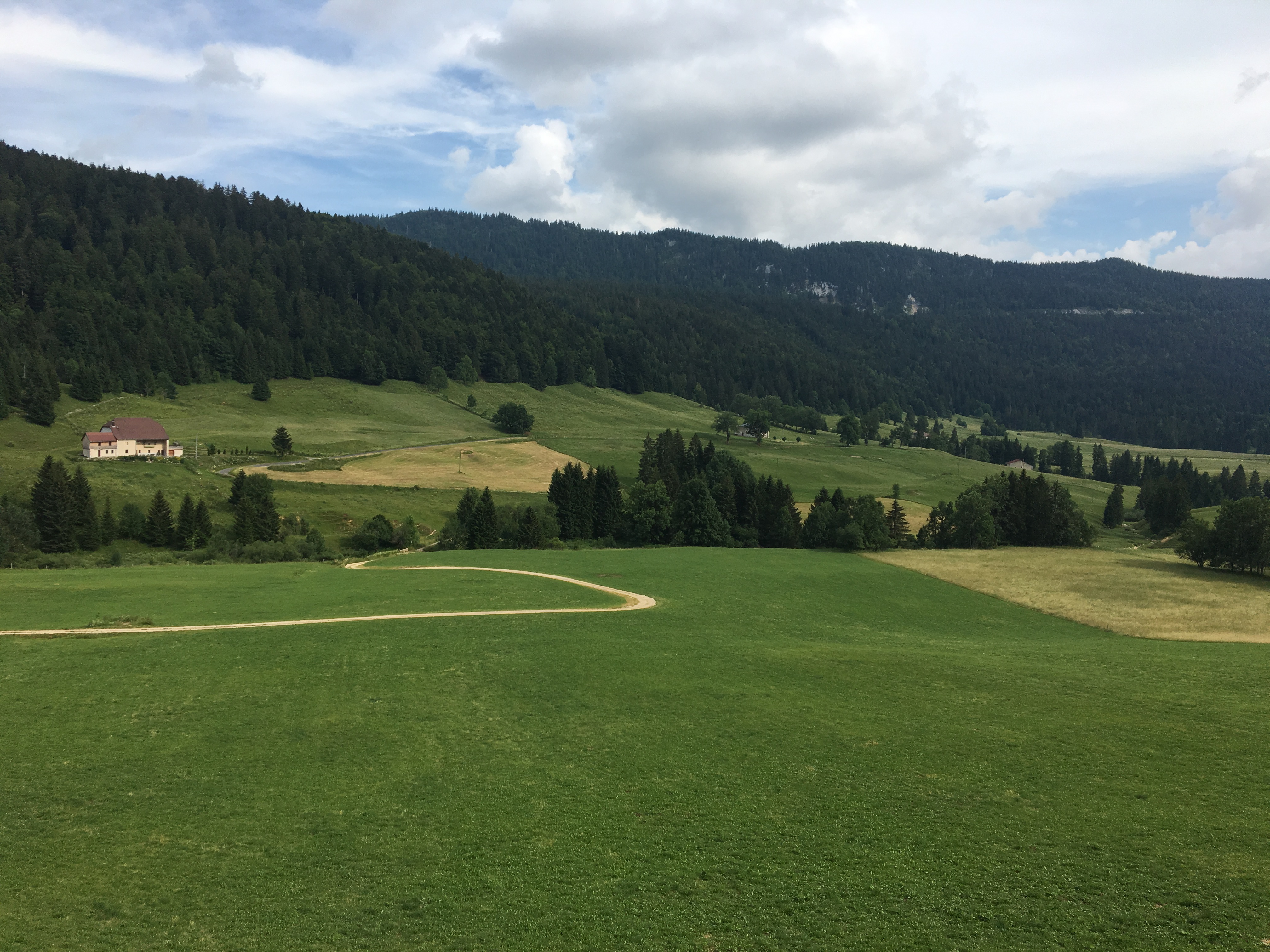 CHARM, HOSPITALITY… AND THE BEST JAMS!
Liliane (or 'Lili', as she prefers to be called) was one of those people. Lili runs the cozy and wonderfully welcoming bed & breakfast Le Crêt l'Agneau in La Longeville, a pleasant little town nestled in the Haut-Doubs, only six kilometers from the Swiss border. Situated amidst lush pastures, Lili's house dates to the 17th century and offers six tastefully decorated rooms that range in price from 100 to 125 euros per night, including a plentiful breakfast complete with Lili's homemade jams. You see, Lili is the queen of jams! She has published several recipe books on the subject, but she's also a true gourmet, who just like me, believes in the health and vitality of eating an organic diet.
That first night, we sat at her table and enjoyed a lovely dinner with wide open windows that afforded the most splendid views of the towering spruce trees in the distance. Lili poured us cool glasses of the local Chardonnay and Savagnin, and set the table with the prettiest rose crockery and matching napkins. The first course was a fresh, crisp salad with gorgeous produce straight from her garden. It was followed by a sinfully delicious fondue, and for dessert peaches in a zingy red currant sauce with a touch of mint. If I close my eyes, I can still taste that fabulous fuchsia-colored sauce! She also passed around hearty slices of a local specialty called gâteau de ménage — a brioche-like cake with a fine crumb and a taste reminiscent of waffles. When dinner was over, Lili asked if we wanted coffee or tea. I adore French tisanes and have made a habit of drinking them after dinner, especially tilleul or verveine. They are great for digestion and also very soothing. Well, I was certainly in for a treat because Lili made us a kettle of freshly steeped tilleul and mint picked right from her garden! I slept like a baby that night (and I sleep very poorly on press trips)!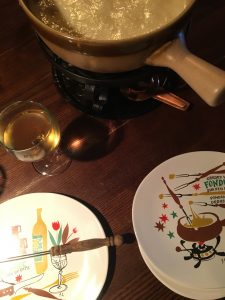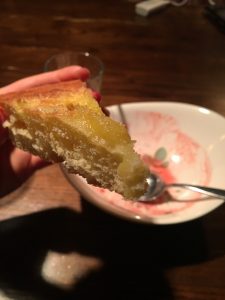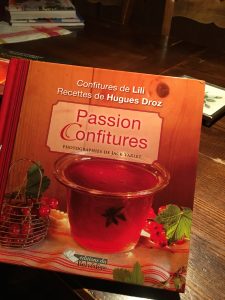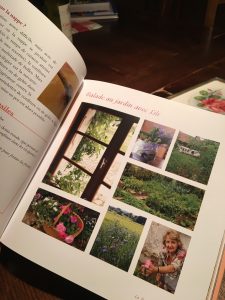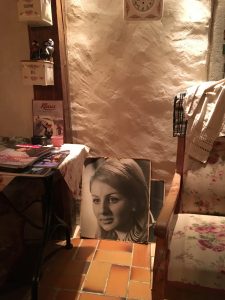 BREAKFAST & GOOD-BYES
Of course, it also helped that my room was an absolute joy. Comfortable beds and plenty of sweet little touches such as a table with a rose tea set and a small couch next to the window.
The next morning when I walked downstairs, the table was full of baskets of fresh bread and pastries, Lili's jams, butter and coffee and juice. We chatted some more, and before I left (I hated to go!), Lili told me never to lose my smile (she said I was always smiling!). How could I not? To make the experience even better, Lili showed us the kitchen where all the magic happens, and she even gave me one of her glass jam pots — a sweet souvenir! It wasn't just the beauty of the surroundings or of Lili's lovely accommodation, but her grace, love of food and most of all hospitality that made my stay so very memorable. I simply cannot recommend Le Crêt l'Agneau enough. And to Lili — un grand merci !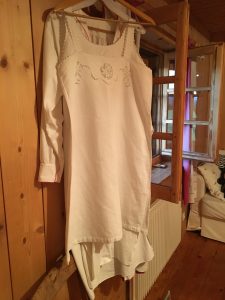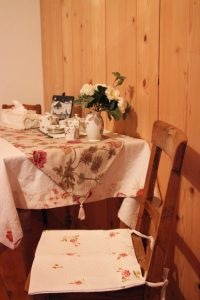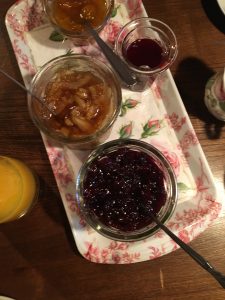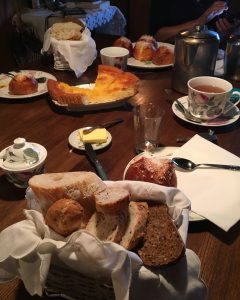 NOTE: When I came back home, I was leafing through one of my favorite French cookbooks, Les Carnets de Julie. I am a HUGE fan of Julie Andrieu and love the program she made to accompany the book. You can imagine my surprise when I came across Lili's recipe for pain d'épices (French gingerbread) on page 178. And there in the corner of the page was a photo of Lili surrounded by smiling faces around her convivial table! I even found the program on YouTube — you can see Lili and her b&B from 43:05! But do watch the entire show. For me, it was like a little trip down memory lane!
LE CRET L'AGNEAU
25650 LA LONGEVILLE
Tél + 33 (0)6 89 93 24 49 – www.lecret-lagneau.com
For further information about the Jura Mountains, please visit www.montagnes-du-jura.fr/en/