Bellenda's Prosecco DOC Rosé Millesimato paired with the sun-drenched flavors of southern France
A VIBRANT FEAST
After a long, gray winter, there is nothing quite as thrilling as welcoming the change of seasons with meals that are full of vibrant flavors and aromas. Sure, there is solace to be found in the rich stews and casseroles of the colder months, but spirits are instantly lifted with the culinary awakening that comes when the first hints of color arrive at the market in the form of pink rhubarb, ruby strawberries and bright green peas and asparagus.
On Friday, we enjoyed the season's first lamb – plump, little chops pan-fried to a perfect rosé and seductively succulent. Grilled asparagus and red-skinned new potatoes roasted with plenty of garlic and good olive oil completed the feast. Though my table is nearly always a reflection of the seasons, it's inevitable that after that first spring meal I become somewhat impatient.
It was a beautifully elegant bottle of prosecco rosé which inspired me to skip spring, if only for an instant, and head straight into the warm and welcoming arms of a summer in Provence. That's the way things work sometimes. First you see the bottle and fall in love, and then in a frenzy of culinary inspiration, you prepare a meal that will hopefully do it justice. 
BELLENDA PROSECCO DOC ROSÉ MILLESIMATO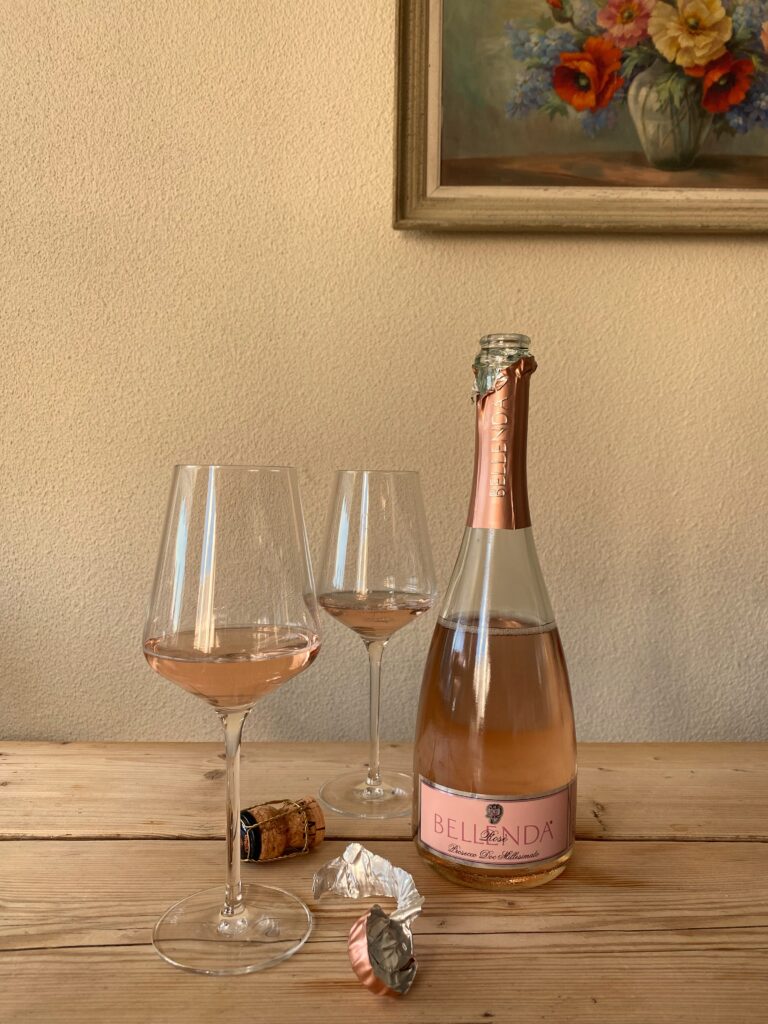 Crafted from a blend of Glera and Pinot Noir grapes, Bellenda's Prosecco DOC Rosé Millesimato is a blushing pink sparkling wine with a delicate mousse and a light, tingling bubble. Replete with ripe cherries and summer berries, it seduces with its aromatic bouquet, finesse and good structure. This is a wine that will do exceptionally well as a sunny apéritif or first-course accompaniment to lighter fare. It would definitely be in its place with an elegant Sunday brunch (keep this one in mind for Easter), and it certainly has enough backbone to pair with the vivid flavors of southern French/Mediterranean cooking. In this case, chicken with lemon, garlic and rosemary served with pan-fried gnocchi and a ratatouille of aubergine and cherry tomatoes. 

Lemon chicken with olives, garlic & rosemary
Serves 2
Ingredients
450g boneless chicken thighs

1 lemon

3 tbsps quality extra virgin olive oil

2 sprigs of rosemary, needles finely chopped

2 large cloves pink garlic, thinly sliced

Fleur de sel

Freshly cracked pepper

Knob of butter

60g green olives

Chopped parsley

Instructions
Place the chicken in a baking dish and drizzle with the lemon juice and olive oil. Scatter with the rosemary and garlic and season with salt and pepper. Rub the marinade into the meat and allow it to rest in the fridge for a good two hours. When ready to cook, melt a knob of butter in a frying pan with a little olive oil. Brown the chicken on all sides for 5 minutes. Add the marinade, 60 ml water and the olives. Cover with a lid and cook for 20 minute, turning every now and then. Transfer the chicken to a platter, scatter with the parsley and serve.
Aubergine & cherry tomato ratatouille
Serves 2

Ingredients
3 tbsps quality extra virgin olive oil

1 large onion, chopped

1 aubergine, cut into medium chunks

250g cherry tomatoes, halved

1 ½ tsps sugar

Fleur de sel 

Freshly cracked pepper

Instructions
Heat the olive oil in a heavy-bottomed saucepan and gently sauté the onion for 6 minutes. Increase the heat, add the aubergine and cook for an additional 6 minutes, stirring frequently. Add the cherry tomatoes, sugar and salt and pepper. Stir well, cover, reduce the heat to a simmer and cook for one hour, stirring occasionally. Remove the lid, increase the heat and cook for 5 minutes. The sauce will thicken and reduce. Serve the ratatouille as a side to chicken or fish. 
ABOUT BELLENDA
Bellenda was founded in 1986 by the Cosmo family. Located in the village of Carpesica, in the hills between Conegliano and Vittorio Venetomore, the estate counts 35 hectares of vineyards. Eighty percent are planted with Glera grapes, for the Classic Method Prosecco Superiore, and the rest is Cabernet Sauvignon/ Franc, Merlot and Marzemino (for the production of Colli di Conegliano Rosso) as well as Chardonnay and Pinot Noir for the other classic method wines. More information about Bellenda's range can be found here: Bellenda