Though for some, salads are synonymous with boring 'diet' food, I can't get enough of them, even during winter. The secret to a great salad? Using the best ingredients!
DIET FOOD? THINK AGAIN!
To me, there isn't a more perfect lunch than a huge salad, and the possibilities are endless: tender greens; some leftover roast chicken, smoked salmon, cheese or chopped boiled eggs; crisp homemade croutons or a healthy mix of seeds and nuts; flavorful olives, sun-dried tomatoes or anchovies for a bit of zest; and of, course, a proper vinaigrette. Doesn't sound all that boring, does it?!
THE PERFECT VINAIGRETTE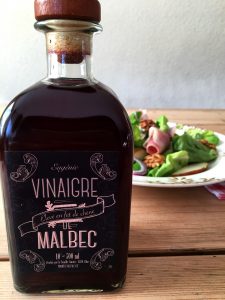 One of the crucial elements of a fabulous salad is the vinaigrette. It should have just the right amount of acidity to lift the flavors of the ingredients, but it should never be overpowering. A good-quality oil is important. While some swear by extra virgin olive oil, others argue that the best choice is a delicate vegetable oil. I personally prefer to use a little of both. A good pinch of fleur de sel for a little crunch is essential, as is a dash of freshly cracked mixed peppercorns — never use the powdered stuff as it has no taste whatsoever. Mustard, too. At least for me. I love to add a touch of Dijon mustard. And of course, a fine vinegar.
When I saw that Château Eugénie — one of the top wine estates situated in the heart of the Cahors wine region — was producing Malbec vinegar aged in oak, I immediately became interested in the product. The bottle alone, with its black label and touch of French vintage chic, is quite the eye-catcher. But the magic happens when you carefully twist the cork-cap open and experience its bright, ripe fruit aromas and oaky notes. THIS is exactly the type of vinegar that will beautifully enhance any salad!
ALL NATURAL & AGED IN OAK
Made by 100% natural process, from the acetic fermentation of their Cahors wine range, the vinegar is produced by putting leftovers from bottles that are open for more than three days into six hundred liter oak barrels with a vinegar 'mother'. After a few months, the vinegar is ready. I used the vinegar to make a vinaigrette for my Roquefort, pear, ham and walnut salad (recipe below) and it was delicious. I could not agree more with Antoine Vié from Château Eugénie, who believes that in order to make good vinegar, you need to start with good wine.
Though I haven't tried their wines yet, judging from the quality of the vinegar, I may just pay them a visit the next time I'm in the region. The Couture family estate has a history that goes back to 1470, and they produce a large range of Cahors wines. For those interested, they also sell walnut oil, grape juice (both sparkling and still) and 'ratafia' a local apéritif. Enough reasons to stop by yourself, I would say! PS: You can follow their IG account here.
And now, the recipe for this hearty winter salad!
Winter Salad with Roquefort, Ham & Walnut
Serves 4
Ingredients:
1 tbsp Château Eugénie Malbec wine vinegar

Fleur de sel and freshly cracked pepper

½ tsp Dijon mustard

2 tbsps sunflower oil

1 tbsp extra virgin olive oil

1 small red onion, halved and thinly sliced

4 handfuls tender greens of choice

100g Roquefort, crumbled

1 large, sweet pear, cored and chopped

Sliced ham

Handful of walnuts
Instructions:
Pour the vinegar into a large bowl and add some salt and pepper. Whisk in the mustard followed by the oils. Once the mixture emulsifies, it is ready. Add in the onions and leave for 10 minutes. This will make the taste of the onions less sharp. Carefully toss your dry salad greens through the dressing making sure the leaves are evenly coated. Divide the salad over four shallow bowls, top with the rest of the ingredients and serve.