New French Table is a collection of more than one hundred enticingly beautiful recipes compiled by mother-daughter team Giselle and Emily Roux. And the chocolate and aubergine pots are delectable!

I have an embarrassingly large collection of French cookbooks. From those that focus on regional cuisine to the ones that are expertly written by renowned French chefs and feature recipes that look stunning on the page, but aren't really meant for everyday cooking or take into account the skills of less experienced cooks. So when another cookbook on French cuisine hits the bookstores, the first question that runs through my mind is: how does this one stand out from the rest? And with New French Table: A Fresh Take on Classic Recipes, the title pretty much says it all.
INSPIRING RECIPES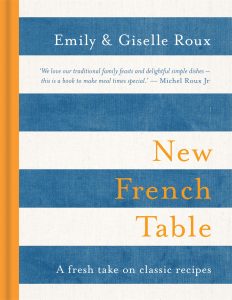 Written by the ladies behind the Roux dynasty, the book features recipes that are a part of their history. From dishes that Giselle remembers from her youth, to modern-day creations that Emily, who trained as a chef at the Institut Paul Bocuse and worked in kitchens all over the world, introduced to the family. There are classically French and heartwarming dishes such as pommes dauphines, pissaladière, lapin à la moutarde and cherry clafoutis, but also inspiring dishes that are colorful, trendy and appealing to contemporary tastes. Among them Emily's dairy-free avocado mousse and gluten-free granola, her black chia porridge with bamboo crunch or the individual summer tartelettes with a quinoa crust.
The book is divided into ten chapters, starting with soups and ending with desserts. There is a chapter on dishes with international influences (risotto alla milanese, green chicken curry, Japanese seaweed salad with crayfish tails), one on breads (baguettes, rosemary and black olive fougasse, pain au lait) and even a chapter on preserves, pickles and pâtés (white peach jam with cordial, artichokes in vinegar, chicken liver pâté). Each chapter is sprinkled with anecdotes, making the book as much a pleasure to read as it is to cook from. And because the recipes are clearly written and include gorgeous photography, even the ones that require a bit more effort (crispy rolled pig's head with red cabbage salad) seem accessible.
MUST-TRY!
In my opinion, one of the stars of New French Table is definitely the chocolate and aubergine pots — a dazzling combination of dark chocolate and aubergine that delectably surprised me! The recipe calls for roasted aubergine, and I must admit that when I first read it, I was a little hesitant. But the result was phenomenal! The aubergine added a slightly smoky flavor to the mousse and paired exquisitely with the dark chocolate. This is definitely one to 'wow' your guests with!
Chocolate and Aubergine Pots

Serves 6
Ingredients:
1 large aubergine, peeled and cut into 2.5 cm (1 inch dice)

160g (5 ¾oz) good-quality dark chocolate (at least 70 per cent cocoa solids)
For the crème anglaise:
150ml (5fl oz) whole milk

150ml (5fl oz) double cream

3 egg yolks

30g (1oz) caster sugar
Instructions:
Preheat the oven to 180℃ (350°F), Gas Mark 4 and line a baking sheet with greaseproof paper.
Spread the aubergine over the prepared baking sheet and transfer to the oven for 25 minutes, until soft and pulpy. Transfer to a blender and blend until smooth. If the mixture is not perfectly smooth, press it through a sieve to achieve a smooth purée. Set aside.
To make the crème anglaise, place the milk and cream in a medium pan over low heat. Bring just to the boil, then immediately remove from the heat. Set aside for a couple of minutes to cool slightly.
Meanwhile, place the egg yolks and sugar in a large mixing bowl and whisk until pale and frothy. Once the milk has cooled slightly (if it is too hot it will scramble the eggs), gradually pour it into the egg mixture, constantly whisking, until fully combined. Pour the mixture back into the pan and place over a low heat. Using a kitchen thermometer, continue to whisk the mixture until its temperature has reached 82℃ (180°F), at this point the mixture should have thickened slightly.
Break the chocolate into another large mixing bowl and pour over one-third of the crème anglaise, stir until the chocolate has almost melted, then add another third and stir to combine. Finally, pour in the last of the crème anglaise and stir until fully combined.
Add 250g (9oz) of the aubergine purée to the mixture and stir until fully incorporated. Divide the mixture between 6 ramekins and transfer to the fridge for at least 2 hours before serving.
Reprinted with permission from Octopus Publishing Group