Poached pears are one of the joys of the fall and winter season. A recipe for pears poached in Monbazillac.

MY FARMERS' MARKET
There are few things I love more than getting up early on Saturday to visit my local farmers' market. It's a small market, yet it has everything you need to make the most delicious, healthy and sustainable meals. There is a stall offering robust and tasty chickens (Polderhoen); another selling beef from cattle reared on the farm; a baker who pulls fragrant loaves out of his oven on the spot; a cheesemonger offering local Dutch cheeses, other dairy products and fresh eggs; an Italian delicatessen stall where you can find cheeses, olive oils, balsamic syrup, wine, charcuterie, homemade lasagne, calzones (my daughter's favorite) and hearty grain salads; a woman who sells a mouth-watering selection of baked treats (remember I told you about her carrot cake?); a stall selling pantry staples such as dried pasta, rice, legumes and spices; and, of course, a vegetable stall and a fruit stall. This is the first place I head to as soon as I arrive and the place where I spend most of my money. It is really hard to contain my excitement every week as I approach the stall, full of delicious anticipation. What will they have this week? And what is no longer available? You see, shopping there is more than a matter of taste. It is a matter of awareness and respect. Awareness of the seasons and what our land produces, and respect for the planet and the people who take it into consideration when growing our food. I am always very happy when I see small children here with their parents. Eating well and caring for our planet are some pretty important life lessons!
Every season brings a new bounty to the stalls, which means there is always something to look forward to. And if you are a cooking novice, there's no better place to exchange recipes and cooking tips than here. I have learned so much from these dedicated farmers!
PERFECT PEARS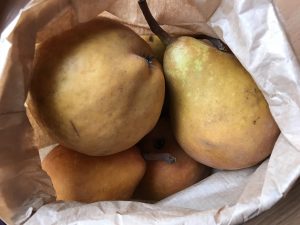 Last weekend there were gorgeous persimmons, citrus fruits, apples and pears. One of the varieties of pears available was the Dutch Gieser Wildeman, a small, hard pear which is ideal for poaching and somewhat similar to the French Saint Rémy. I had been craving poached pears for a while, so I asked for six pears, three to poach in red wine and three to poach in sweet Monbazillac wine.
The following recipe is not only simple and a joy to make (the aromas in my kitchen were amazing), but it is one to keep in mind with the upcoming holiday season. I served the pears with their syrup, though a scoop of vanilla or cinnamon ice cream would also complement them quite well.
Here is the recipe:
Spiced Poached Pears in Monbazillac
Serves 4
Ingredients:
250ml Monbazillac wine

750ml water

175g fine sugar

Rind and juice of 1 organic lemon

1 cinnamon stick

1 star anise

4 Gieser Wildeman pears (or another hard pear variety), peeled
Instructions:
Add all of the ingredients (except the pears) to a saucepan over a medium-high heat and stir until the sugar is fully dissolved. Bring to a boil and reduce to a simmer. Gently lower in the pears, cover and allow to cook for 45-60 minutes, depending on the type of pears you use. You might want to check for doneness after about 40 minutes. Simply insert a skewer into a pear (it should slide in and out with ease). Once the pears are done, transfer them to a serving bowl and keep them covered. Increase the heat and reduce the syrup by about half. The syrup will have taken on a beautiful blush by then. Pour over the pears and serve. The pears are also delicious cold.