Decades after she made audiences gasp with delight in Et Dieu… créa la femme, Bardot is still a beauty icon. Brigitte Bardot: My Life in Fashion looks at her unique and much-coveted style.

FASHION & BEAUTY ICON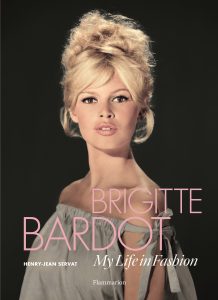 Born in Paris on September 28th 1934, Brigitte Bardot was not really interested in stylish clothes as a young girl. In fact, she never set out to revolutionize the fashion and beauty world. She wore her own clothes in many movies and wasn't keen on makeup or the haute couture, mink-clad movie star style of the 1950s ("It wasn't great, an old-granny sort of look," she told journalist Henri-Jean Servat.) Nevertheless, her naturally good looks, allure and charisma left a lasting impact. Whatever Bardot wore was trendsetting and had women all over the world imitating her look. Whether it was her flowing skirts, dainty ballerinas, pink gingham dresses, bold eyeliner or tousled mane, every woman wanted to be just a little bit like Brigitte.  
UNIQUE STYLE
Henri-Jean Servat's book, Brigitte Bardot: My Life in Fashion, opens with her own words, a quote that really sums it all up: "The Bardot style is simply my own style; in other words, it's not a style at all. I dressed in the same way as I did my hair: depending on what took my fancy, and what I felt like at that moment.I wore elegant gowns designed by the top couturiers as well as gorgeous gypsy outfits that were unconventional, things I came across by accident and then became fashionable!It makes me laugh! In any case, it was prettier and sexier than what we see these days.I'm proud I created a style that doesn't go out of fashion—because I was never fashionable!"
After a candid interview that sets the stage for the beautiful tribute that unfolds with every turn of the page, this exceptional book traces her style and career from the early days (she was discovered at the tender age of fourteen) to the moment she decided to give up her life onscreen and devote every ounce of her energy to fighting for the rights of animals. Featuring 185 stunning images (color and b/w) of the actress on photo shoots, film sets and in her private life, Brigitte Bardot: My Life in Fashion tells the story of a bewitchingly beautiful woman who followed her own rules and managed to develop her own unique style… without even trying. A woman who despite her sex symbol status was modest, pure and genuine. It's a must for Bardot fans, but also highly recommended for anyone interested in style and beauty.
Image above: The 'very lively' mambo in Come Dance with Me! Brigitte is dancing with Dario Moreno in an outfit designed by couturier Jacques Esterel, her hair styled by Carita. © Cinémathèque française, from Brigitte Bardot: My Life in Fashion (Flammarion, 2016).
Published by Flammarion | October 2016
Hardback £29.95 | 256 pages | ISBN 978-2-08-020269-7