Through the French Door offers a peek into handsome homes decorated in charming French style with romantic touches and lovingly chosen items.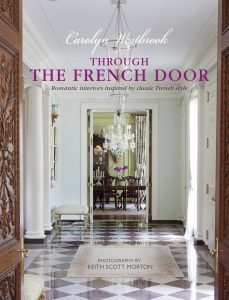 A HOME THAT REFLECTS THE SPIRIT OF YOU
Written by interior designer and decorator Carolyn Westbrook, whose style is mainly influenced by the French countryside, the book features three gorgeous chapters full of exquisite photos that will inspire you to beautify your home with superb taste. Westbrook believes in "creating a home that reflects the spirit of you" and encourages readers to add personality to their living spaces by decorating with meaningful items that have their own unique story.
A WEALTH OF NEW IDEAS FOR YOUR OWN HOME
Westbrook's 19th-century plantation home, which she attractively brought back to life and "continues to be a work in progress", is the kind of home we all dream of. Weathered mirrors, cleverly arranged stacks of books, antique finds, crystal accents and gorgeous linens all add character and elegance. Westbrook also shows us how she subtly incorporates pink, her favorite color, into her home. Furthermore, she takes us into other marvelous interiors including a breathtakingly beautiful town and country house where simplicity is sublimely combined with bold accents such as Gothic-style doors and gilt-framed paintings. Toward the end of the book, there is a short chapter on gatherings and celebrations. We are invited to a springtime garden party brimming with feminine flair, feel the warmth of an autumn harvest table and gather ideas for the upcoming holiday season.
The book is not only visually attractive, but it is also sprinkled with plenty of tips and anecdotes which make it a real pleasure to read. You will turn the final page filled with a wealth of new ideas and eager to start giving your home a French-style makeover!
Through the French Door by Carolyn Westbrook, CICO Books (£19.99)
Photography by Keith Scott Morton © CICO Books