Taste your way through France and join me on delectable journeys!
My Heart's Home: Memories & Recipes of France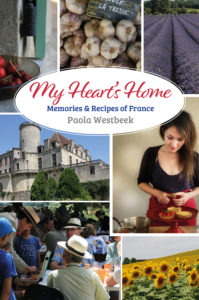 Join me on a delicious journey to some of my favorite places in France as I cook authentic regional delights and share recipes inspired by travels through my adoptive country. With colorful stories and diary entries about gastronomic discoveries, wine adventures, beautiful villages and enticing markets, this is more than just another collection of recipes – it is a love song dedicated to France, my "heart's home," and an ode to French food guaranteed to lure you into the kitchen and bring a burst of joie de vivre to your life and table. Included are classics such as moules marinières, tartelettes aux fraises, tomates farcies and moelleux au chocolat, but also exciting dishes such as pork loin with lavender and mustard, chicken in Banyuls, a vibrant tomato tarte tatin, tuna rillettes with ras el hanout, and ice cream with prunes and Armagnac. You'll read about my first vacations in Bourgogne and the south of France, historic places, unforgettable meals, and many memorable French experiences. A must for those who love France and good food!
There are two versions of the book available:
Le Goûter: Afternoon Snacking the French Way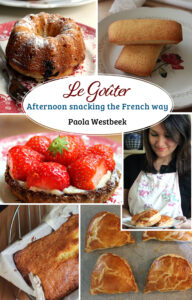 Eating between meals is discouraged in France, yet there is one snack which is never passed up, a beloved tradition known as 'le goûter' (also called 'le quatre-heures' or 'la pause gourmande') and an integral part of French culture. The beauty of le goûter (the word means 'to taste') is that it encourages children (and adults!) to take a break and relish something special. In a way, it even helps create a healthy relationship toward food, which may seem paradoxical because le goûter is not really meant to be nutritious. It's meant to be decadent!
Le Goûter: Afternoon Snacking the French Way, features my favorite baked goods and sweet indulgences. Not all are traditionally French, but they are guaranteed to make your afternoons extra special. You'll love making and serving these delicious treats that are easy and don't shy away from calling for sugar, butter or cream. Some recipes include tips on how to get children to help in the kitchen as well as interesting food history tidbits to share at the table. The book is not only meant for parents of young children, but will appeal to anyone who enjoys classic French treats and tasty desserts.  So whether you're in the mood to whip up shiny fruit tarts, bake a batch of round-bellied madeleines or indulge in a slice of homemade cake, this book has all the inspiration you need to indulge…  and raise little connaisseurs! Life is about to get a whole lot sweeter: C'est bientôt l'heure du goûter!
Dishing it Up: The Story Behind 20 Icons of French Food & Drink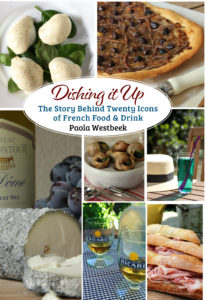 Food is more than just sustenance. Food is memories, traditions and love. Food, however, is also part of our culture. It is edible history passed down from one generation to the next. Nearly everything we eat and drink has a story, and for me, knowing that story makes me enjoy and appreciate what's on my plate (or in my glass) even more.
Dishing it Up features a selection of interesting (and often surprising) stories behind some of the most popular French food and drink items. From when the first snails were devoured in France, to why you should order a jambon-beurre or oeufs mayo the next time you visit Paris, this book will take you on a gourmet journey that may just leave you hungry to discover more. Included after some stories is a recipe inspired by the product discussed. You'll be dipping the prettiest madeleines into your afternoon tea, baking up a pissaladière just as they do in Nice, serving pork chops in tangy mustard sauce, and much more.
Writing these brief food histories has seen me through some of the most delicious research, discovering interesting recipes… and uncovering truths. PS: Can we please stop giving Henri Le Roux the credit for inventing caramel au beurre salé? And yes, there is a difference between 'canelés' and 'cannelés'! 

My Winter Kitchen: Warming Recipes for the Coldest Months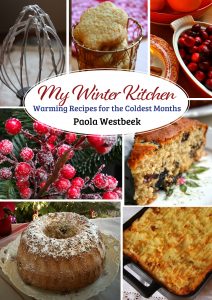 My Winter Kitchen: Warming Recipes for the Coldest Months contains a selection of recipes for Thanksgiving, Christmas and even the Dutch Sinterklaas celebration, it is mostly a collection of warming recipes inspired by my youth and teenage years growing up in a Colombian-American family in New Jersey and my time abroad in both the Netherlands and France. Not only is the book a behind-the-scenes look at how my passion for food developed, but it also contains treasured family recipes and interesting food and wine stories. And speaking of wine, most recipes include a wine tip, too!
I couldn't be happier with the book's reception since its publication. Receiving pictures of people who got the book as a Christmas present, seeing the dishes that have been created and were so much enjoyed, and reading reviews such as this one have truly filled my heart and given me the encouragement to continue bringing out books that are made with love, and most importantly, have recipes that work! Because honestly, I think cookbooks belong in the kitchen where they are actually used, not on a coffee table where they are flipped through, closed, never cooked from and forgotten.
You can get the book in paperback or as an eBook.
Market Fresh Cooking: A Taste of the French Countryside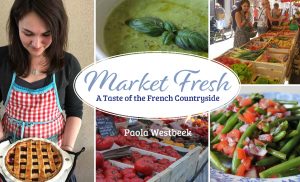 More than 30 delicious and colorful recipes that are inspired by the bounty of French markets and easy to make. From tasty starters such as eggs with lemon mayonnaise and Burgundy's famous gougères, to perfect lunch dishes such as a crisp tomato tart, quiches and vibrant soups. You'll even find beautiful desserts, among them a delicate apricot tart and a classic flan parisien that tastes like it came straight out of a French bakery.
Accessibly written and full of stories that are just as inspiring as the recipes. You'll not only feel as though you're walking through a sunny French market full of sumptuous produce stalls, but you'll be cooking recipes everyone will love!
Only available in eBook format:
regular version
and
print replica version