In his latest cookbook, One Knife, One Pot, One Dish, internationally renowned chef and restaurant owner Stéphane Reynaud, shows us just how easy it is to cook delicious French food.

NO-FUSS FRENCH COOKING
For some, especially those who claim they can't cook, the French kitchen conjures up images of difficult sauces and complicated dishes only meant to be prepared at restaurants. Imagine trying to convince them that they too can flawlessly serve classics such as blanquette de veau, pot-au-feu, coq au vin and tartiflette. Not an easy feat… unless you hand them a copy of the recently published One Knife, One Pot, One Dish by Stéphane Reynaud. The book features a mouth-watering selection of 160 no-fuss, easy-to-follow recipes that require a minimum of time in the kitchen and can be made without the need for fancy equipment. Good ingredients that are easy to find (and a little faith in one's culinary capacities) are all that's necessary!
FROM PRE-DINNER NIBBLES TO DESSERT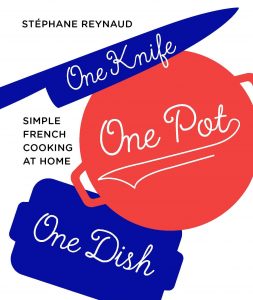 One Knife, One Pot, One Dish is divided into seven chapters. The book opens with 'Pre-dinner' nibbles to whet the appetite and serve with drinks. The 'Meat' chapter tempts with hearty casseroles and oven dishes such as 'one-pot carbonnade', 'veal with lemon and mint', 'pork with beer and tomatoes' and 'rabbit with artichokes'. These are exactly the type of dishes that will feed both body and soul and make any day feel like Sunday. The 'Fish and more' chapter features somewhat lighter fare, including 'salmon with baby vegetables', 'turbot with bok choy and chilli' and 'sea bass with lemon and fennel'. The 'scallops with ham and sauternes' looks especially tempting and will probably be the star of my next dinner party (it only takes about 20 minutes to make). Vegetarians and vegans are not forgotten either. The 'Veggies' and 'A few eggs' chapters provide plenty of inspiration, and some of the dishes make gorgeous sides or sophisticated (yet simple to make) brunches (I'm looking at you, 'eggs with morel cream'!). A 'Cheese' chapter offers clever ideas for serving classic French cheeses or putting together a perfect cheese platter, while the 'Desserts' chapter delights with crumbles, tarts and beautifully light fruit desserts. As I flipped through the pages, I was already planning which dishes to make. How could I not with such enticing photography?!
VEGGIE LENTILS
One of my favorite dishes so far has been the 'veggie lentils'. I adore lentil casseroles, but usually start by sautéing shallots, carrots, celery and garlic before adding the lentils. I add the herbs in at the very end. In this dish, however, all of the ingredients are combined in one pan and cooked for 20 minutes. The result is a warming and healthy lentil dish that — should you have any left — tastes even better the next day for lunch.
Enjoy!
Veggie lentils
Serves 4
Ingredients:
3 French shallots

2 garlic cloves

2 carrots

1 zucchini (courgette)

3 ripe tomatoes

200 g blue-green Puy lentils

1 bunch flat-leaf (Italian) parsley

750 ml vegetable stock

50 g pitted green olives

50 g pitted dry black olives

1 tablespoon tomato paste

(concentrated purée)

Salt and pepper
Also necessary:
1 flameproof casserole dish

1 chopping board
Instructions:
Peel and finely slice the shallots and garlic. Peel and cut the carrots into cubes. Cut the zucchini and tomatoes into cubes. Rinse the lentils. Chop the parsley. Put all of the ingredients in a flameproof casserole dish, pour in the vegetable stock and cook over low heat for 20 minutes. Season with salt and pepper.
Reprinted with permission from Murdoch Books
ISBN: 9781760527754