Looking for real comfort food to warm you up on a blustery fall day? Try my hachis parmentier.
COLD DAYS & COMFORT FOOD
Fall has finally made its appearance here in the Netherlands, and as I write, there's a light drizzle and a chill in the air signaling winter's inevitable approach. As much as I love the colors and bounty of the fall season, the prospect of the endless cold, gray days that lie ahead is slightly unsettling. Especially the months after the holidays , which can seem to drag on forever. Until I spot the first tiny, delicate spring flowers and am comforted knowing that it won't be long before the earth will once again gloriously awaken.
There are things, however, that I look forward to. Little pleasures that bring joy and comfort to these barren months. Like candlelit evenings, reading books by the fireplace in the peacefulness of the early morning, or Sunday afternoon family movie time with a big bowl of something crisp and salty which should make me feel incredibly guilt — but somehow doesn't.
And then there's comfort food, of course. An overused expression for those hearty and warming delights that make it all just a bit more bearable. Bowls of soup, thick meaty stews, oatmeal crowned with chopped nuts and maple syrup, generous slices of apple pie.
I especially love hibernating in my kitchen and making classic French cold-weather dishes such as cassoulet, choucroute garnie and hachis parmentier, which I am sharing with you today.
Originally, this homey, French dish was made with leftover pot-au-feu (meat and vegetables stew) baked under a thick layer of mashed potatoes. Today, it is also made with minced meat. In this recipe, I add a layer of mashed potatoes both on the bottom and top of the flavorful meat filling.
I should point out that this was one of the recipes in my first 'The French Life Cookalong', which I hosted late last spring. You can access the complete booklet at the end of this page.
The second Cookalong, which has a festive theme, starts tomorrow and I am terribly excited!
But first, here's the recipe for my hachis parmentier. Hope it keeps you warm and cozy, and hope you like it as much as we do!

Hachis Parmentier
Serves 4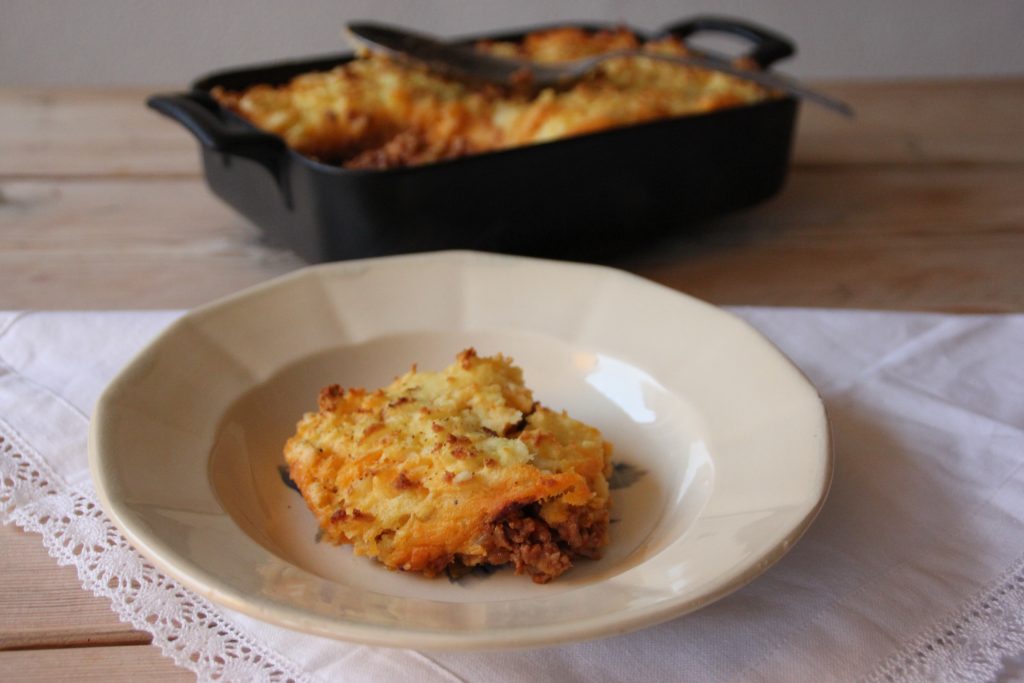 Ingredients:
1 kg floury potatoes

1 tbsp olive oil, plus a little more for the baking dish

1 onion, finely chopped

1 carrot, peeled and diced

1 garlic clove, finely chopped

250g minced beef

250g minced pork

3 tbsps tomato paste

½ tsp sugar

1 tbsp fresh thyme

Fine sea salt and freshly cracked pepper

1 tbsp flour

125ml beef stock

2 tsps Dijon mustard

Pinch of nutmeg

3 tbsps crème fraîche

125ml hot milk

1 egg, lightly whisked

A little butter, for dotting the dish
Instructions:
Brush the potatoes under running water and peel and cut them into pieces. Boil the potatoes in salted water for 15-20 minutes, or until soft. In the meantime, preheat the oven to 180°C and grease a rectangular 26 x 18cm baking dish with a little olive oil. Heat the tbsp of olive oil in a heavy-bottomed casserole and sauté the onion, carrot and garlic for 5 minutes. Increase the heat, add the mince and cook for 5 minutes. Stir in the tomato paste, sugar, thyme and salt and pepper and cook for 3 minutes. Stir in the flour and pour in the beef stock. Put a lid on the pan and let the sauce simmer for 10 minutes, stirring occasionally. Meanwhile, make the puree. Drain the potatoes, add mustard, nutmeg, crème fraîche, milk, salt and pepper and mash to a purée. Stir the egg through. Place half of the purée in the baking dish in an even layer and top with the mince. Cover with the rest of the purée. Use the tines of a fork to trace a line pattern on the purée. Dot with butter and bake for 45 minutes. Place the dish under the grill for the last few minutes for a nice brown crust. Delicious with a green salad.