Jura is one of the most peaceful and scenic parts of France. Barry Whittingham tells us why.
Sometimes, I am required to interview expats for the articles I contribute to Living France. I recently wrote an article about the Jura Mountains and came across Barry Whittingham, a retired teacher who has been living in the town of Saint-Claude in Jura for more than forty-five years. Below, Barry tells us what attracted him to the region and about his life there. He also tells us about places of interest and local food and wine. For those interested in making the area their home (or buying a second home), read on for some sound advice on how to integrate with the locals.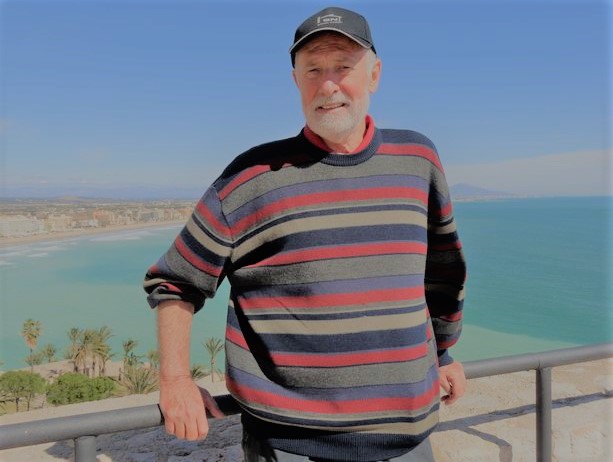 What attracted you to the Jura ?
Originally the fact that the region offered me the chance to live a unique, authentic French way of life while providing optimal work opportunities (very little competition at the time) in a spectacular, natural and peaceful environment.
Where are you originally from and why/when did you move to Jura?
Though I was born in Bournemouth where my father was stationed during WW2 my parents were born and bred Yorkshire people. At the end of the war we moved back north to Bradford (my father was a professional footballer who played for Bradford City).  Here I went to school until the age of 18 when I gained a place at Reading University to read French Language and Literature. After graduating I worked as a commercial supervisor for a Birmingham brewery but soon decided that beer wasn't my cup of tea and went back to Reading University to obtain a teaching diploma. I then spent two years (September 1970 to July 1972) teaching French in a secondary school in Bradford.
Why and when I moved to the Jura is rather complicated to explain.
In my second teaching year, in order to improve my French speaking skills and first-hand knowledge of the French education system and way of life I successfully applied to be part of an official teacher exchange scheme (organized by the Central Bureau for Educational Visits and Exchanges and the French Ministry of Education). I taught English for a year (September 1972 to June 1973) at the lycée of Lure in the Haute-Saône department.
So much did I enjoy this year's experience that I began to consider making France my permanent home. With this in mind I got a job teaching English to adults with the CLA (Centre de Linguistique Appliqué) at the University of Besançon and after the INFOP (the training section of the Besançon Chamber of Commerce). With the INFOP I taught mainly commercial English, not only to company staff based in Besançon but I was also sent to teach in companies in the Haute-Saône and the Jura. This was how I first came into contact with the Jura department. In 1975 I decided to branch out by setting up my own English language teaching and translation business in the Jura. As previously mentioned I chose this department because there was little competition here at that time.  I was also attracted by the spectacular natural beauty (up to then I'd only lived in large English cities) and, I must admit, by the fact that, since there were very few foreigners living here, it would enable me to continue my quest to live an unadulterated French way of life. During the daytime I organized in-company commercial English courses and courses for the general public in the evenings.  This I did until my retirement in 2009. In addition, in 1975 I met Renée, my French live-in partner, who was born and bred in Saint-Claude.
What is your profession/what are you doing in the Jura ?
As previously stated I was a French secondary school teacher in England and an English teacher in France. Since my retirement I spend a good deal of time writing.  My novel, Barfield School, is the first book in the Call of France trilogy. At present I'm engaged in writing the follow-up. The trilogy can be considered as a dramatization of my own experiences during my more than 45 years of residence in France.
How did you go about finding your property and was it difficult ? I understand you've been there for 45 years. Is it easy/difficult to find property now ?
On first settling in the Jura I rented a small flat in Orgelet, a small town halfway between Lons-le-Saunier and Saint-Claude. The flat was recommended to me by one of my students who lived in Orgelet and knew my future landlady. After 3 years I bought a newly built flat of my own located on the outskirts of Lons-le-Saunier. I did this through a building promoter/estate agency). I had no difficulty finding a flat which suited my needs. When my live-in-partner's mother died some 25 years ago I moved into the Saint-Claude parental house which she inherited.  We have been living together there ever since.
I would say it's quite easy to find property- at least in Saint-Claude – at very reasonable prices. In the past Saint-Claude was a world renowned briar pipe-making and diamond-cutting centre but these industries, along with the population, are now declining with a resulting decrease in demand for property. As for other Jura towns (Dole, Lons-le-Saunier, Champagnole) prices are higher but judging from advertisements in local papers availability for property, both to buy and rent, is good.
Are there many expats in the Jura ?
In comparison with many departments, especially in the south west, I would say that cases are far more isolated. Perhaps this is because I'm perfectly happy with my French life and don't make a point of seeking out compatriots or other expats. As a result personal contact is rare (over the last five years or so I don't think I've spoken English with a single anglophone. However the existence of some expats is sometimes brought to my notice through articles in the local press. These are frequently Dutch (the Jura is a very popular holiday destination for the Dutch and some decide to make it their home) occasionally British and sometimes Australian or American.  One thing is sure : there are no expat colonies.
Are the locals welcoming to expats ?
Once they get over their natural reserve I would say yes. But it takes time. Generally speaking, people from the Jura are not renowned for their extroverted, demonstrative nature and you have to reach out to them.  Personally I was conscious of going through a sort of trial period before being totally accepted. In addition, very few of the locals speak or are willing to speak more than the odd word of English so a non-French speaking expat would have difficulty in being accepted.  Once you are accepted, however, and they give you their friendship they tend to be honest and true (unlike perhaps some other, more southern departments, where human relationhips are pitched at a more superficial level). Personally, being English has never been a problem for me. In fact I've always felt it to be an advantage – though the English, along with other foreigners, are victims of the usual stereotypes.
What do you enjoy most about living in a mountainous area such as the Jura ?
The spectacular mountain scenery, the closeness to nature, the peaceful, small-town environment where traffic jams are unheard of and where everybody knows everybody. The fact that it enables me to embrace to the full the kind of life I aimed at when I first decided to settle in France.
Are you familiar with neighbouring departments Doubs and Ain ? If so can you name a few must-see tourist attractions in those departments ?
I'm quite familar with the ancient town of Besançon, the capital of the Doubs, having lived and worked there for two years. The citadelle, designed by the famous military architect Vauban and dominating the town is well worth a visit. It contains a small zoo. The house where Victor Hugo was born in 1802 can also be visited. Besançon has many museums on a variety of subjects. It also has a cathedral. In addition, there are a number of pleasant botanical gardens within the town.
Saint-Claude is only half-an-hour's drive from the Ain department. In summer it's possible to walk along the banks of the magnificent lake of Nantua located in the Ain less than an hour's drive from Saint-Claude. A British vintage car show is held here every year in June. Though not limited to the Doubs and the Ain in summer most French villages hold their vide-grenier (literally an attic-emptying), a sort of jumble sale  where almost anything can be bought at giveaway prices (you can bargain). I even saw a kitchen sink for sale at one !
The Jura is known for its cheeses, sausage and vin jaune. What are your favourite local products/dishes ?
Apart from the sherry-like vin jaune the Jura is also a quality red and white wine producing region. These wines have a distinctive taste which I personally appreciate but which some of the French (especially the Parisian type) don't. It also produces a Crémant du Jura  (a sparkling wine representing a much less expensive alternative to Champagne) together with another fortified wine (fermentation is stopped by adding marc, a grape brandy) known as Macvin du Jura. Le vin jaune is also used in cooking. One of my favourite, typically Jura specialities is le poulet au vin jaune et morilles. The morel mushrooms (they're picked in spring and difficult to find – so much so that their location is a closely-guarded secret passed down from father to son) which grow wild in the Haut Jura lend a truffle-like flavour to the dish. It's on the menu of most of the region's reputable restaurants.
What advice would you give someone who wants to move to the Jura ?
Not to move here simply for the weather (it's a semi continental climate with hot summers (sometimes with appreciable amounts of  rain) and (very) cold winters), the booze, or in the hope of forming an English speaking club with your compatriots or other expats. You must be prepared to make every effort to integrate the local way of life. As previously mentioned, the ability to speak French relatively well is essential as very few people speak more than a few words of English. Integration can also be made difficult by a certain parochialism : a common subject of conversation among locals is people they know or knew (especially their legendary exploits), their parents and even grandparents. As a foreigner you can find yourself totally excluded and much patience is required.
Once they have given you their friendship, however, it's real and durable. My own integration was helped by the fact that I met my live-in partner way back in 1975).  Both she and her parents were born and bred in Saint-Claude and this was of enormous help as it acted as an immediate introduction to her friends and family. If this hadn't been the case I think that initially I would have suffered a certain amount of loneliness. Joining a club or sporting association of some kind can, however, be of considerable help in meeting others. And a man must be prepared to drink an apéritif with the locals. It's surprising how an alcoholic drink or two can bring people together. I remember going on a café crawl with some of my tennis club pals some 25 years ago now. We all went home in a sorry state. It's still talked about with great amusement – even today !
Images courtesy of Barry Whittingham. For more information about Barry and his work, please visit his Call of France website.