Known for its fresh, crisp and fruity wines, the Loire Valley is the third largest A.O.P. producing region of France. Let's look at a selection of treasures certainly worth discovering.

HISTORY
The Loire is famous for its monumental Renaissance castles, historic towns and varied landscapes interspersed with forests, orchards and gardens. And when it comes to wines, this multifaceted region, aptly referred to as the 'Jardin de la France', has discerned palates spoilt for choice.
The history of viticulture in the Loire Valley extends back two thousand years when vines were first introduced in the Nantes region by the Romans. However, wine growing truly took off around 500 AD, and its history is also intertwined with monks and nobility.
Located on both sides of the banks of Loire River, which stretches over a length of a little over 1000 kilometers, the region is composed of a patchwork of terroirs that produce a wonderful diversity of wines with plenty of character and finesse. Four distinct regions (Pays Nantais, Anjou & Saumur, Touraine and Centre-Loire) boast sixty-one appellations of origin that produce roughly 380 million bottles annually. You will find reds, whites, rosés, sparkling, and sweet wines generally made from a single grape variety. It is interesting to note that when it comes to whites, the Loire Valley is the reigning leader.
PRESS LUNCH WITH LOIRE VALLEY WINES
Last September, I had my first true taste of the Loire Valley and its wines during a press trip to the region as part of an assignment for France magazine En Route. You can find the article in their spring 2018 issue and a preview here on my website. Yesterday, I attended a press lunch hosted by Pitch Communicatie & PR, under guidance of wine expert Chris Alblas and oenologist and fourth generation winemaker (or rather, 'Pleasure Maker') Pierre-Jean Sauvion. The dinner was held at ARC by Lute, which opened last year and is situated on Amsteldijk in Amsterdam's five-star Pestana Hotel. Four of the wines served during this exquisite lunch were especially memorable. Below, I will share three of them, and on my Blissful Ten newsletter this Friday I will tell you about the fourth… so if you haven't signed up, make sure you do so by scrolling down to the bottom of this page and filling in the form!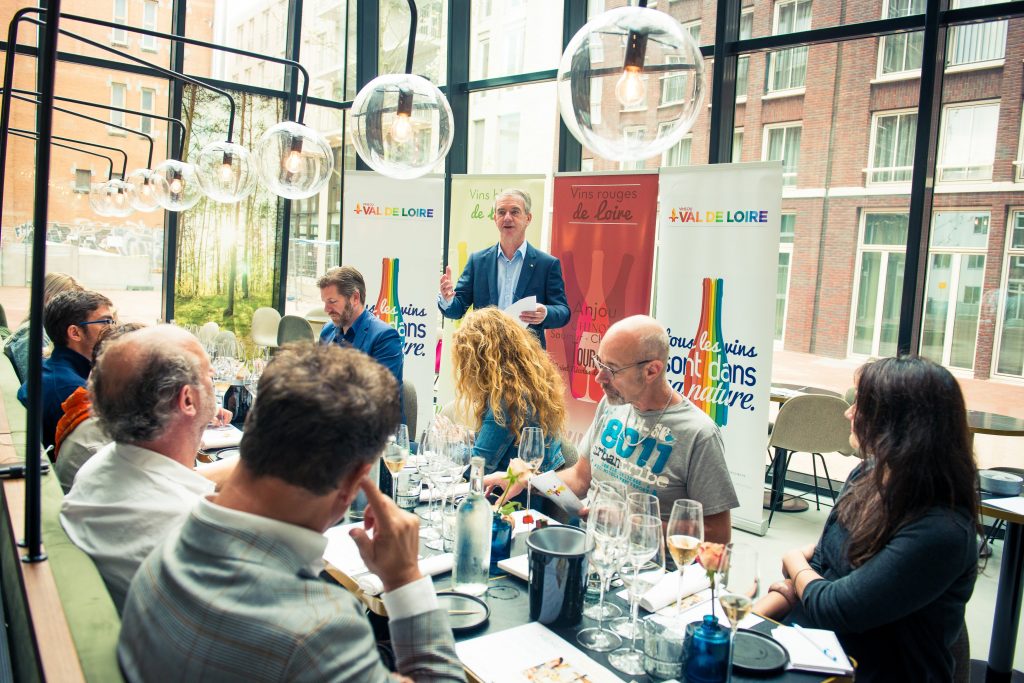 FAVORITES
We were deliciously welcomed with a selection of amuse-bouches and a fabulous apéritif, the sparkling Touraine mousseux (Domaine de la Noblaie's rosé  brut 'Mon Ange'). Made from Cabernet Franc, it is aged in the cellar for a minimum of thirty-six months. This fine bubble with plenty of white fruit on the nose makes a great choice to tingle the taste buds before a meal but would also pair well with desserts. In my opinion, it would be heaven on earth with a crumble of rhubarb or stone fruits.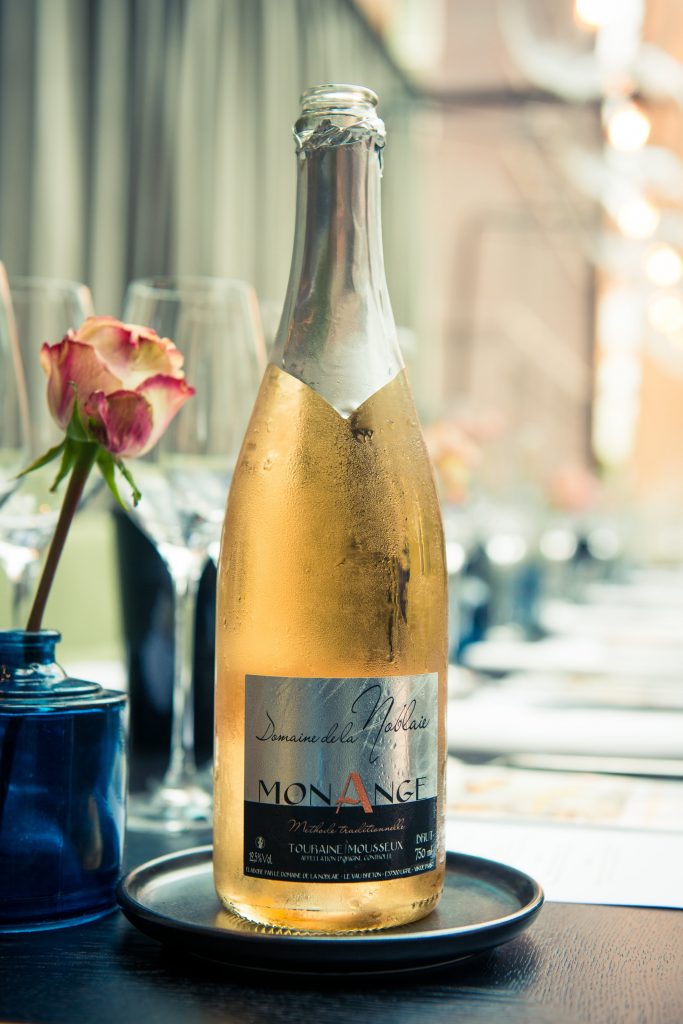 One of the two wines offered with the starter (cold smoked cod with thinly sliced pear, kaffir lime cream and purslane) was the Maison Sauvion (Château du Cléray), Muscadet Sèvre et Maine sur lie 'Haute Culture Cardinal Richard' 2017, a balanced dry white (2g of residual sugars) exhibiting a touch of minerality (or 'saltiness', 'iodine character' as described by Pierre-Jean Sauvion) and a lively finish. The pale yellow wine, which is matured on the lees (sur lie) for six months, has white peach and exotic aromas on the nose. It would go particularly well with a plateau fruits de mer.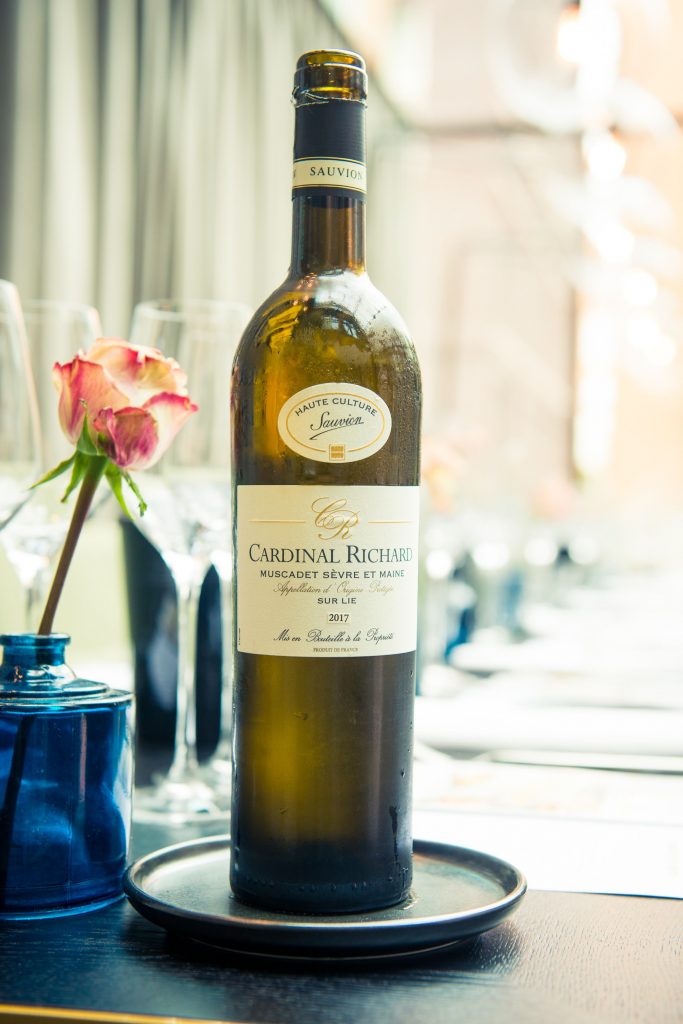 Since visiting Savennières last September during my press trip, I was smitten by the refined chenin blancs of this appellation, one of the eighteen in Anjou-Saumur. Here, the chameleon grape chenin blanc is used especially for dry, but also for semi-dry and sweet white wines. Savennières consists of two sub-appellations, Coulée de Serrant (the most famous, extends over seven hectares and has been in the hands of the Joly family since 1961) and Roche aux Moines, which counts thirty-three hectares. When I visited Domaine des Forges, I was immediately impressed by their selection of wines, and yesterday those memories came flooding back to me as I sipped their La Roche aux Moines 2015, which accompanied a splendid dish of king prawn bisque with boemboe and coconut foam. The wine (which should be decanted) has green apple on the nose with slightly herbal notes. It has a full, rich palate and a pleasant minerality which would go well with fish and poultry in rich sauces. I also think it would pair beautifully with a gratin of coquilles or perhaps even a blanquette de veau.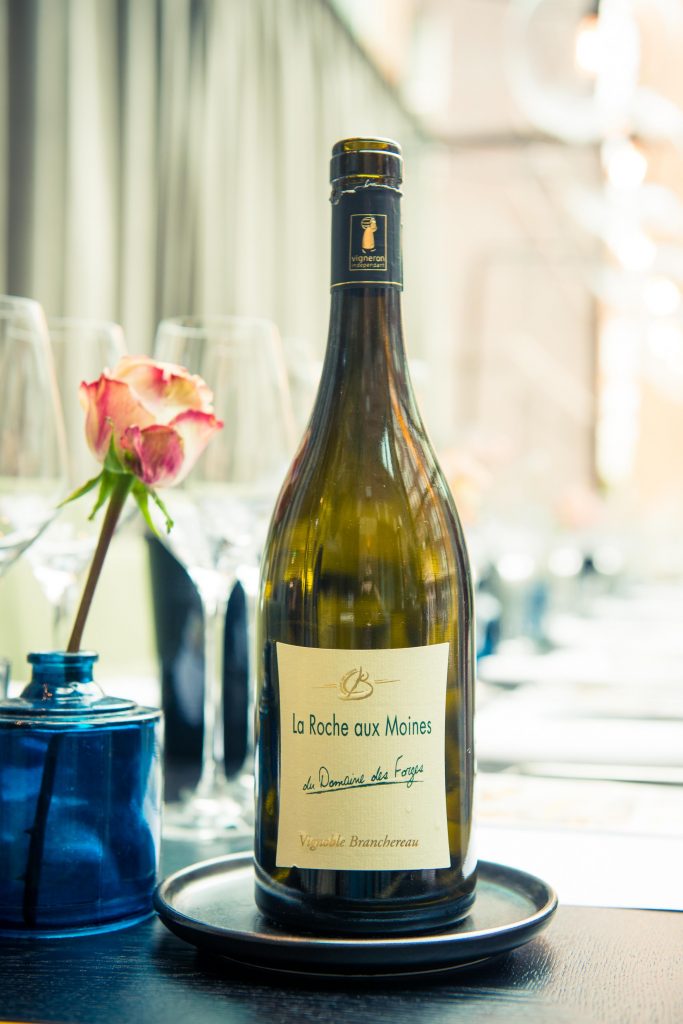 Curious about my fourth choice and what it was paired with? Check out my Blissful Ten newsletter on Friday, May 25th! I promise you, it is truly a wine that demands to be experienced with all the senses.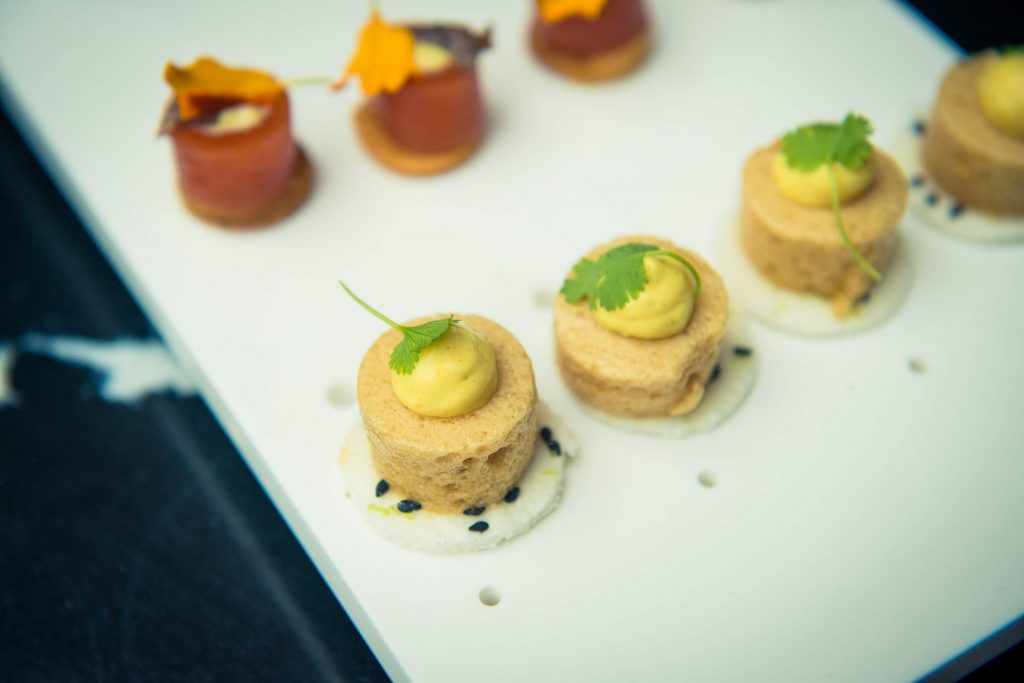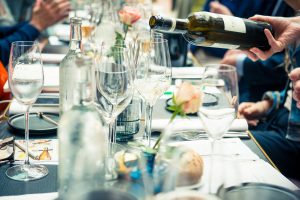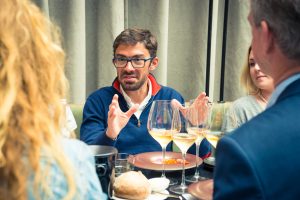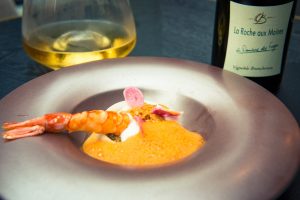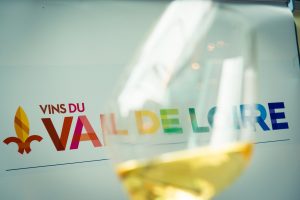 Images courtesy of: Mo Barends